Telling Israel that the U.S. expects the J'lem government to treat UNSC 242 as a non-existent document, might have sounded like a great idea to Obama and his regime, supposedly showing how 'decisive' he can really be, but it'll backfire, badly. Anyone who knows anything about Israeli defense concerns knows that Israel demands a presence along the Jordan River. This is not just about settlements, but about Israeli survival.
Obama and his team of lackluster (far-Left) advisors, like Samantha Power and like ilk, are badly advising this president, but then again, which came first, the chicken or the egg? He sought out these advisors because he agrees with their world view, and if he thinks just because the Arabs and the Jews will reject his proposals, it'll win him big favors by the Left in 2012, he's badly mistaken. KGS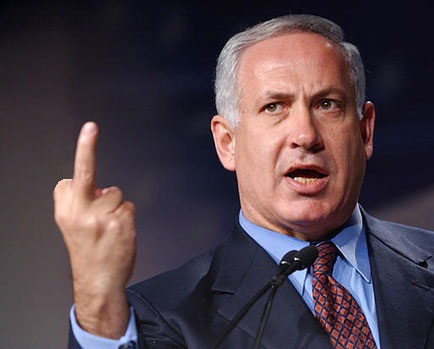 Israel Expects Obama to Take Back '1967 Lines' Demand
by Gil Ronen
Follow Israel news on and .
Prime Minister Binyamin Netanyahu was quick on the draw Thursday in voicing clear displeasure with President Barack Obama's mideast policy speech.
"Israel appreciates President Obama's commitment to peace," the response began, curtly. "Israel believes that for peace to endure between Israelis and Palestinians, the viability of a Palestinian state cannot come at the expense of the viability of the one and only Jewish state."
"That is why Prime Minister Netanyahu expects to hear a reaffirmation from President Obama of U.S. commitments made to Israel in 2004, which were overwhelmingly supported by both Houses of Congress."
"Among other things," Netanyahu reminded Obama, "those commitments relate to Israel not having to withdraw to the 1967 lines which are both indefensible and which would leave major Israeli population centers in Judea and Samaria beyond those lines."
"Those commitments also ensure Israel's well-being as a Jewish state by making clear that Palestinian refugees will settle in a future Palestinian state rather than in Israel."
"Without a solution to the Palestinian refugee problem outside the borders of Israel, no territorial concession will bring peace."
"Equally, the Palestinians, and not just the United States, must recognize Israel as the nation state of the Jewish people, and any peace agreement with them must end all claims against Israel."
"Prime Minister Netanyahu will make clear that the defense of Israel requires an Israeli military presence along the Jordan River."