Eh…..it's what she would like to believe, and working hard to see it come to fruition. Let's not only hope, but work to ensure that she and her future replacements are denied that dream. KGS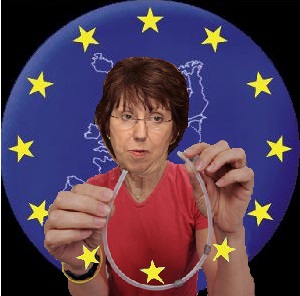 Catheter, always willing to stick the EU's paws  where they're not wanted
H/T: Fjordman
EU 'not marginal' on world stage, Ashton says
VALENTINA POP
18.05.2011 @ 09:28 CET
EUOBSERVER / BRUSSELS – EU foreign policy chief Catherine Ashton on Tuesday (17 May) said the bloc's response to events unfolding in the southern neighbourhood is not at all "a marginal activity", citing evacuations from Libya, the opening of an office in Benghazi and humanitarian aid.
Speaking alongside US secretary of state Hillary Clinton, Ashton stressed the need to keep "remembering what the European Union is and what it is not, and it's bringing together the 27 member states to support action and activities in a recognition of the principles that we hold dear."
Ashton is working on a "bigger" and "bolder" strategy for Europe's southern neighbourhood
"It doesn't mean that on every issue all 27 countries start or end in the same place. What it does mean is we try and build a common view of where we can make a difference," she explained to US media.
She pointed to the upcoming opening of an EU office in Benghazi, the fact that the Union is the biggest supplier of humanitarian aid – €100 million – in Libya, and the help in evacuating 55,000 people. "I don't think for one moment that that's a marginal activity."