Egypt, like most Muslim countries, lacks a civil society, the same civil society, btw, "team Obama" is busy trying to destroy. While Mubarak was not a dream government leader, he'll be a far cry better than what will come after him. KGS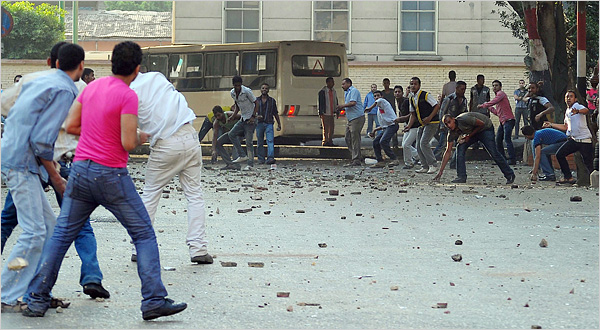 Crime Wave in Egypt Has People Afraid, Even the Police
CAIRO — The neighbors watched helplessly from behind locked gates as an exchange of gunfire rang out at the police station. Then about 80 prisoners burst through the station's doors — some clad only in underwear, many brandishing guns, machetes, even a fire extinguisher — as the police fled.
"The police are afraid," said Mohamed Ismail, 30, a witness. "I am afraid to leave my neighborhood."
Three months after the ouster of Hosni Mubarak, a crime wave in Egypt has emerged as a threat to its promised transition to democracy. Businessmen, politicians and human rights activists say they fear that the mounting disorder — from sectarian strife to soccer riots — is hampering a desperately needed economic recovery or, worse, inviting a new authoritarian crackdown.
At least five attempted jailbreaks have been reported in Cairo in the past two weeks, at least three of them successful. Other attempts take place "every day," a senior Interior Ministry official said, speaking on the condition of anonymity because he was not authorized to talk publicly.
Newspapers brim with other episodes: the Muslim-Christian riot that raged last weekend with the police on the scene, leaving 12 dead and two churches in flames; a kidnapping for ransom of a grandniece of President Anwar el-Sadat; soccer fans who crashed a field and mauled an opposing team as the police disappeared; a mob attack in an upscale suburb, Maadi, that hospitalized a traffic police officer; and the abduction of another officer by Bedouin tribes in the Sinai.
"Things are actually going from bad to worse," said Mohamed ElBaradei, the former international atomic energy official, now a presidential candidate. "Where have the police and military gone?"
H/T: VLAD