While Christians are being hunted down and murdered in cold blood by marauding gangs of Muslim jihadis, Muslim organizations like the Arab League and the Organization of the Islamic Conference push their "Islamofauxbia is the greatest of all human rights violations" meme. KGS
IN NIGERIA: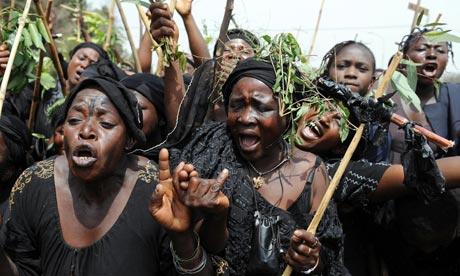 ABUJA, NIGERIA — Christians in northern Nigeria were mourning Saturday, May 7, after Muslim attackers reportedly killed 17 Christians, including the wife and three children of a pastor. Several Christian homes were also burned in the village of Kurum in Nigeria's tense Bauchi State, said advocacy group International Christian Concern (ICC).
ICC told BosNewsLife that it learned about the massacre Friday, May 6. "It is not right for anyone to kill another person, life is precious and a gift from God," explained ICC's Regional Manager for Africa, Jonathan Racho. No more details were immediately available, but the attack was the latest in a series of recent incidents in which hundreds of people died.
"Since 1999 in Bauchi state, several Christians have been killed but no one has been brought before justice. The government has to intervene. The government has to be fair to all its citizens," said Reverend Turbe Ngodem in published remarks.
Reverend Ngodem is the General Secretary of Christian Association of Nigeria in Bauchi State. Since the introduction of Sharia, or Muslim, law in northern Nigeria in 1999, thousands of Christians have been killed by Muslim extremists, according to several rights groups and churches.
IN EGYPT: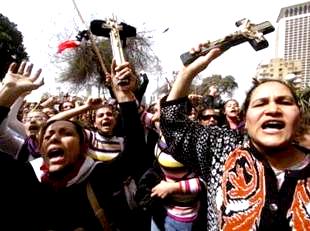 Nine killed in sectarian violence in Cairo
By Samer al-Atrush (AFP) – 7 hours ago
CAIRO — Clashes between Muslims and Christians in the Egyptian capital Cairo left nine dead and more than 100 injured and a church was set on fire, medical and security officials said.
The two groups clashed after Muslims attacked the Coptic Saint Mena church in the working class neighbourhood of Imbaba to free a Christian woman they alleged was being held against her will because she wanted to convert to Islam.
A parish priest, Father Hermina, told AFP that at least five of the dead were Copts who died when "thugs and (Muslim fundamentalist) Salafis fired at them" in the late afternoon attack.
The Gospel had been laid on a body wrapped in a sheet that was lying inside the church. The church floor was bloodstained as wounded Christians were brought in for treatment.
Outside, military police parked several armoured cars to block off Muslim protesters.
They fired their guns into the air as Christians in front of the church and Muslim protesters down the street hurled stones at each other. The Muslim protesters threw firebombs, one of them setting an apartment near the church on fire.
"Oh God! Oh Jesus!" chanted the Coptic protesters. They scuffled with soldiers, blaming them for not doing enough to protect them.
The soldiers advanced at Muslim protesters who edged closer to the church, firing over their heads to repel them. Special forces were later deployed outside the church.
An officer ordered a soldier to escort an AFP journalist away from the church, saying "no journalists are allowed."
Hermina and witnesses had said the Muslims tried to storm the church earlier in the day, claiming the Christians were holding a Muslim woman.