Elisabeth Sabaditsch-Wolff forwards the following translated text from an Austrian article about an Aussie that comes to help out a priest under fire for his anti-Islamization views and activities. KGS

Australian help for radical priest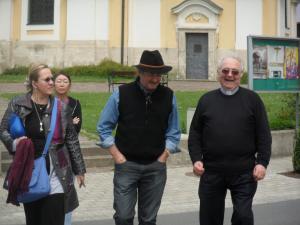 KleineZeitung: Father Karl Tropper, a priest in a small town in southern Austria, has received help in his self-proclaimed crusade against the looming Islamization of Europe.
He just can't stop: Father Tropper, priest in St. Veit am Vogau in southern Austria and famous for his radical view with regard to Islam, has once again caused troubles. After a report by Die Kleine Zeitung in March about his latest verbal derailments ("Islam ist simply repulsive"), the polemical priest looked for and got a help.
Tropper explained in a written statement that the Austrian "expert on Islam" Raymond Warren offered his help after the attack by Die Kleine Zeitung". Finally, on Thursday night, upon Father Tropper's invitation, Raymond Warren talked about "The Islamization of Europe". This took place in the local townhall in St. Veit am Vogau. In order to keep unwanted guests at bay, the invitation was sent out by word of mouth only. After all, no one wanted the guest from Down Under harassed, the invitation said.
About 100 people listened to a two-hour speech which was remarkably similar to Tropper's tirades. Islam is not a religion, but a militant belief system. "It is five minutes to twelve. If nothing is done Islam will take over the world with sword and fire, " Warren ranted and was rewarded with widespread agreement among the listers.
The diocese of Graz is quite unhappy with these theses. "Statements of this sort are definitely not in line with the Catholic position. We are in favor of a serious and differentiated discussion with Islam, " says Georg Plank, the diocese spokesperson. He doubt's that Warren is a knowledgeable expert on Islam: " He is unknown in reputable scholarship."
There will be no immediate consequences for Tropper, who has repeatedly been reprimanded publicly by the diocese. "He is, however, under permanent observation, " asserts Plank.