Al-Qaida's Bin-Laden and Hamas' Sheikh Ahmed Yassin converse in hell: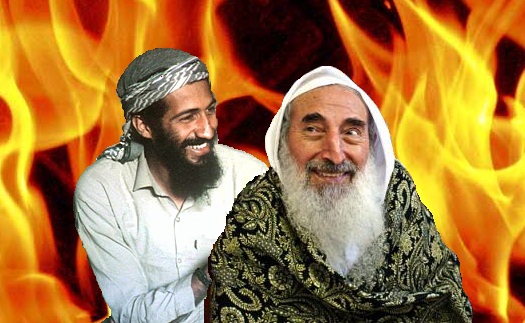 Bin-Laden: Sheik, you were always my mind
Bin Laden versus Yassin
Op-ed: Hypocritical world that slammed killing of Hamas' Yassin now lauds bin Laden hit
By Manfred Gerstenfeld
The flurry of international reactions to the killing of Osama bin Laden by the American army provides Israel with a great opportunity to demonstrate the double standards applied against it by so many in the Western world and elsewhere. All one has to do is compare the reactions of major institutions and leaders with those after the death of Sheikh Ahmed Yassin. This leader of the Hamas terrorist organization was killed by Israel in 2004. He was directly responsible for many lethal attacks on Israeli civilians including suicide bombings.
On Monday, UN Secretary General Ban Ki-moon told reporters that "the death of Osama bin Laden, announced by President (Barack) Obama last night, is a watershed moment in our common global fight against terrorism." Yet after the killing of Sheikh Yassin, then-UN Secretary General Kofi Annan said "I do condemn the targeted assassination of Sheikh Yassin and the others who died with him. Such actions are not only contrary to international law, but they do not do anything to help the search for a peaceful solution."
The now-defunct UN Commission on Human Rights condemned "the tragic death of Sheikh Ahmed Yassin in contravention of the Hague Convention IV of 1907." At the Security Council, the US had to use its veto power to prevent condemnation of Israel.
ALSO: Barry Rubin has the following to say:
It's astounding that Hamas, Fatah al-Aqsa Brigades, and the Egyptian Muslim Brotherhood all issued pro-bin Laden statements. They didn't have to do it. He was no friend of theirs. Yet out of Islamic solidarity and anti-Western hatred (and perhaps fear that it could happen to them) they did.  It's extraordinary that these groups can make such statements and not have themselves totally discredited in American eyes for taking the side of the September 11 terrorist.