The Left is attached to the hip to German National Socialism and Fascism in general. So when a leftist unveils an anti-Semitic side, the leftist is just staying true to the ideological moorings.  Adolf Hitler knew all too well from reading and understanding Karl Marx:
"If we are socialists, then we must definitely be anti-Semites," Hitler explained during a party speech in Munich, August 1920, "How, as a socialist, can you not be an anti-Semite?"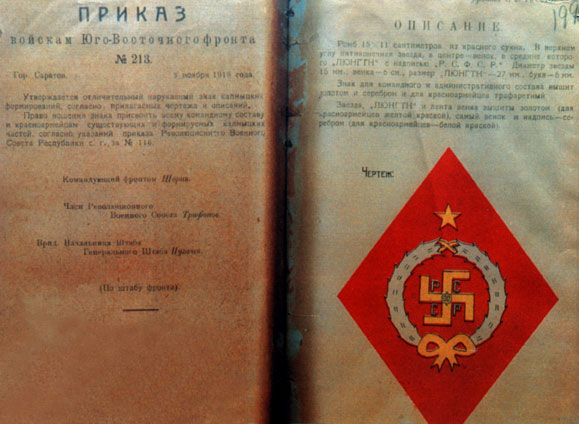 Seeing that Hitler got all of his ideas on inferior races and genocide in general from Marx and from cronies of Marx, the ideologies of socialist Fascism and Communism have far more in common than differences than the communists would dare admit. KGS
German party branch equates Israel with Third Reich
By BENJAMIN WEINTHAL JERUSALEM POST CORRESPONDENT
05/01/2011 03:03
A branch of the Left Party posts flyer with a swastika morphing into a Star of David, calls for boycott of Israeli products.
BERLIN – The Left Party branch in Duisburg, North Rhine-Westphalia, has posted a flyer with a swastika morphing into a Star of David on its website and called for a boycott of Israeli products.
The Internet news portal Ruhrbarone first reported the flyer on Wednesday.
"The Left Party in Duisburg is a hotbed of anti-Semitism," Ruhrbarone wrote.
The flyer states, "Confront the moral blackmail of the so-called Holocaust," and terms Israel a "rogue state" and "warmonger." After Ruhrbarone reported about the flyer, the party branch removed it from its website.
A Ruhrbarone writer filed a complaint with Duisburg police asserting that the flyer violated Germany's anti-hate laws. It may have been on the website for many years.
"The content and style of the flyer that is posted is clearly anti-Semitic, disgusting," Petra Pau, a Left Party MP and vice president of the party in Bundestag, wrote on Thursday in response to an email query from The Jerusalem Post.
Pau traveled to Israel in 2008 to speak at an international conference of the Global Forum for Combating Antisemitism.
When asked if Left Party legislators agreed with the flyer, she told the Post that "because I am at this time not in Berlin, I cannot speak for the Left Party in the Bundestag.
Personally, I am angry and convinced that the party leadership will clarify the matter."
Ruhrbarone criticized the Green Party and the Social Democrats for forming a coalition with the Left Party on the Duisburg City Council.