These whack-job Leftists are relentless in their hatred for Israel, their mind numbing anti-Jew propagandizing knows no bounds. Sick. KGS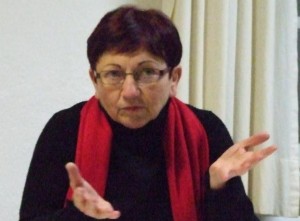 Inge Höger: IT'S DA BIG BAD JOOOOOOOOS, VAT ELSE!
German MP blames Israel for Mer, Arrigoni deaths
By BENJAMIN WEINTHAL JERUSALEM POST CORRESPONDENT
04/24/2011 01:35
Inge Höger was aboard the Mavi Marmara last May; attributed murders of Italian activist and Arab-Israeil actor to Israeli government.
BERLIN – Inge Höger, a Left Party member of the Bundestag who was aboard the Mavi Marmara when it tried to break the blockade of Gaza last May, had reportedly attributed the recent murders by Palestinians of pro- Palestinian Israeli filmmaker Juliano Mer-Khamis and Italian activist Vittorio Arrigoni to Israel's government.
"Inge Höger's wild conspiracy theory is pure speculation, without any concrete factual basis," Volker Beck, a leading German Green Party MP and spokesman for the party on human rights, said last week.
"She employs the centuries-old image of the perfidiously murderous Jews. After the terrible murder of Vittorio Arrigoni in the Gaza Strip, only one thing is apparently clear to the Left Party: Israel is guilty. And should the opposite be proven, a lingering doubt will remain," he said.
Writing on her Left Party website, Höger asked: "The question one must pose is: Who profits from this terrible crime? First of all, now two of the activists most 'dangerous' for Israel, because they were the most engaged, wellknown and noted, are eliminated.
The murders of Vittorio and Juliano could also be a means of dealing a serious blow to the international solidarity movement – especially given the upcoming second flotilla and the fact that international.