They even returned their private property!
What a farce. Letting these criminals go when they should be either having their necks stretched or sitting in prison with hard labor. This does absolutely nothing to deter piracy, rather, it encourages the continuance of it. KGS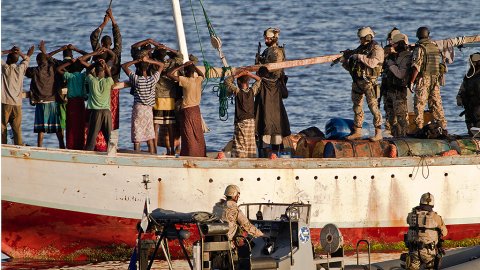 Finnish Naval Vessel Releases Suspected Somali Pirates
A group of 18 suspected Somali pirates detained two weeks ago by the Finnish minelayer Pohjanmaa have been released. No country was willing to take custody of the suspects who were released on the shores of Somalia early Thursday.
EU Atalanta operations spokesman Paddy O'Kennedy said that the release was made on humanitarian grounds. According to O'Kennedy after being aboard the Pohjanmaa since April 6th, no country had been found to prosecute or express an intent to prosecute the case. He was unwilling to report precisely where the 18 had been released.
"Personal items were returned to the Somali men before their release. Confiscated weapons and other items related to piracy were not returned to them," said the skipper of the Pohjanmaa, Commander Mika Raunu.
The Atalanta operation held talks with a number of states about taking the suspects, but none was willing to undertake investigations and prosecution.
Finland declined to investigate or prosecute as the suspects were not involved in any attack on Finnish shipping or against Finnish nationals. The suspects were apprehended by the Pohjanmaa after an attack on a Singapore-registered vessel. The EU did not reach agreement on releasing the men to Singapore, because they could have possibly faced a death penalty in that country.