The Norwegian state broadcaster NRK has a history of bias against Israel. Just last year in April one of their 'ace' journalists, Sidsel Wold, conducted an interview with Dr.Manfred Gerstenfeld from the JCPA, in which Gerstenfeld was only alloted 20 seconds to speak in a 3 minute interview. The NRK journalist basically used the time to answer her own questions breaking just about every journalistic rule in the book that NRK claims it adheres to. To this date the NRK broadcaster has neither offered an apology to Dr.Gerstenfeld nor sanctioned Sidsel Wold.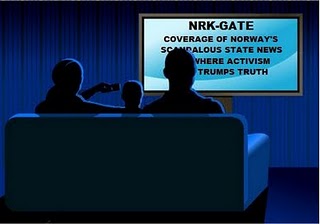 The Tundra Tabloids is notified by the NIJ blog that the Israeli embassy in Norway had filed a complaint against NRK for violating its own rules of journalistic ethics that appears below the fold. There is to be a hearing concerning the Israeli embassy's complaint on NRK's coverage of Israel next week on April 28th. KGS
Mr. Knut E. Holm                                                                                               29 October 2010

Foreign Editor

NRK

NRK's coverage of Israel & the Middle East – An on-going journalistic failure caused by a political bias?

Dear Sir,

This letter is based on four years of experiencing NRK's coverage of Israel & the Middle East.

If I had to characterize NRK's coverage of Israel & the ME (TV, Radio, Website, text-TV) in one sentence only, it will have to be: An on-going journalistic failure(defined here by bringing only part of the picture, for too long, and usually the same part).

I have reached this sad conclusion after asking myself the following questions:

Has NRK taken a side in the Israeli-Palestinian/Arab conflict, which became its "Israeli agenda" (that shapes & determines its coverage)?
Has this agenda been reflecting a political bias along with the Palestinian/Arab narrative? For example: the biggest obstacle to peace is the settlements (and not the terror), or it is the Israelis who don't want Peace (and not the Arab sides).
Is NRK more interested in judging Israel than understanding & reporting about it? And is it possible that along with the above mentioned NRK's preference of the Palestinian/Arab narratives – an ignorance regarding Israel's narrative has been established during the years?
Has NRK been treating Israel more politically & emotionally than journalistically & factually? Also in a manner which is different from the way NRK is dealing with any other democratic country? For example: "cause & effect" isn't maintained (as shown during the Gaza war and while dealing with the "wall").
Despite the extensive NRK's coverage Israel has been getting, is it usually only one or two-dimensional (political-security & conflict minded)? Also ignoring other significant dimensions (culture, science, economics etc'), which results in an incomplete and distorted picture of Israel? Could this be contributing to Israel-bashing in Norway?
Even when NRK does bring the Israeli side, is it almost always being presented from the Palestinian point of view? (As examples 3 & 9 on p. 3 demonstrate).
Has all of the above been occurring here during the last 3 decades or so?

I believe that NRK's Israeli agenda is responsible for the much-too-wide gap existing between the Middle East's & Israel's reality on the ground, and its image in Norway. Enclosed (pp. 3-4) are just a few examples of that agenda.

Let me be clear: Israel, like any other democracy, is not above criticism. However, what we have been seeing from NRK, unfortunately, is not a fair or acceptable criticism. It is reminiscent more of an on-going prosecution of one side to a conflict (which has more than two), while depriving that one side of its right to answer it; playing-down the responsibility of the other sides to this conflict and ignoring most of the positive distinctions or developments related to Israel. As far as I know NRK's Israeli agenda was documented by at least one Norwegian research: Daniel Heradstveit's "Mediakrigen I Libanon. Var NRK balansert?"  (The Media War in Lebanon. Was NRK balanced? Published in the series Internasjonal Politikk nr. 3/1983).

I also find ironic the fact that NRK "discovered" & revealed just a few months ago the existence of anti-Semitism in Norwegian schools, without examining all of the possible reasons for this despicable phenomenon, such as the connection between NRK's on-going failure in reporting about Israel & the ME and  its effects on some Norwegians.

More than that, all our attempts during the years to encourage NRK to widen its perspectives & to broaden its scope of Israel's coverage (so it includes other facets of Israel & its neighbors in order to show the whole picture), remain unanswered (Israeli culture/economics/science, the Iranian threat, terror, Arab & Muslim wrongdoings – also towards the Palestinians – as in Lebanon recently, were all and are still basically ignored or merely underscored). Add to that NRK's ignoring or under-reporting much worse global conflicts than the Israeli-Palestinian & Arab one – and both NRK's lack of proportions & its obsession with Israel become even more apparent.

Even if one's expectations of Israel – an oasis of highly developed, western democracy & a foreign correspondent's paradise in the Middle East – are much higher than one's expectations of Israel's neighbors, there is no justification for the distorted picture created by NRK as a direct result of these expectations & reporting conditions, combined with NRK's Israeli agenda.

More than once I have initiated futile meetings with NRK's editors. The only reply I got to my detailed and well- documented complaints was always the same: "we hear you".  Nothing more… (No wonder the last one was withUkeslutt's editors, 18/10/07).

Should NRK decide to review its on-going coverage of Israel & the Middle East since the 70′s, this in my opinion should include the following as well:

When it comes to Israel, do NRK's journalists & commentators rely on facts (all the facts) or on speculations? Do they demonstrate deep understanding based on fair knowledge of history & well-researched journalism, or merely personal bias and a troubling NRK's Israeli agenda (being composed of prejudice/political correctness/conventional wisdom/a certain atmosphere or leading by example/maybe even written instructions & editing codes – some or all of them).
Is there an over-all balance maintained in reports and debates? (Proportions & context, pro and anti, Arab & Israeli, non-official & official, critical and supportive, more than one expert's opinion, etc').
Who is invited to debates? Are they the same people with the same views unchanged by facts? Is there a real debate amongst NRK's experts or amongst the academic ones when it comes to Israel, the Palestinians & the Middle East?
Which narrative of the conflict is usually adopted by NRK's reporting and analyzing? (The Israeli one, the Arab or Palestinian one, both equally, none).
Has the Middle East – with all of its complexity, constant changes & variety of conflicts (of which many have nothing to do with Israel) – been reduced by NRK to the Israeli-Palestinian conflict in black & white (perpetrators vs. victims)?
Has Israel – despite being multi-faceted, pluralistic, innovative & creative, colorful & generating numerous dilemmas, debates & opinions – been reduced by NRK to a monolithic entity characterized only as extremist & aggressive?
Has NRK been traditionally critical towards the bilateral relations between Norway & Israel?

I do hope NRK is able to conduct such a review and make the needed changes if indeed needed. NRK's TV 50thanniversary may encourage this as well. It is perhaps needless to point-out how important such a review is, not only for Israel, but for Norway & Norwegian journalism as well.

Sincerely Yours,

Aviad Ivri

DCM

Cc: NRK's General Director, Hans-Tore Bjerkaas

NRK's News editor, Stein Bjøntegård

Examples of NRK's bias towards Israel

(Just a few… & one final comment)

1. Brennpunkt's clear one-sidedness following the 2nd Lebanon War, while airing a documentary about the civilian suffering during that war but only about the one concerning the Lebanese side(10/10/06).

2. NRK's failure to ask the two Norwegian doctors any critical questions while interviewing them during the Gaza war (December 2008-January 2009). Even worse! Treating them on prime time TV as heroes, while ignoring their problematic involvement with Hamas and overlooking the reasons for Israel's attack on Hamas (Takk for sist, NRK, TV1, 6/9/10).

3. NRK's caption ("an Israeli tourist") while showing an interview by your Middle East correspondent, Ms. Wold, with an Israeli (!) in Jerusalem (9/11/07).

4. The interview with Israel's President Shimon Peres, during which your interviewer, Ms. Christine Præsttun, has demonstrated ignorance, NRK's "Israeli agenda" and even rudeness (5/2/09).

5. When it comes to bias, she's not alone. More recent examples included two other NRK's employees: Ms. Hilde Hummelvold (who when asked about which contemporary persons make her most angry, replied: "Internationally I could mention lots of names: Ahmadinejad,Netanyahu, Kim Jong Il, the Burma Junta, the Sudan regime) and Ms. Line Andersen, who when asked which issues she is willing to demonstrate for, said: "I have been demonstrating so much that you wouldn't believe it, as a former youth politician. Last time was for the Palestine issue" (Dagsavisen, 22/7/10 & 20/7/10 respectively).

6. Prof. Henriksen-Waage declaring on "Frokost TV" that not one Israeli was ever killed by Kassam rockets (not true), with no reaction from the host Peter Nome or any correction afterwards (24/1/08).

7. Ms. Wold, admitting that: "… After the Gaza war I stayed away from Israelis for weeks, I had to take a break…" (NRKKorrespondentbrevet, 19/9/09)

8. Ms. Wold's crying outburst & ranking the different peoples of the ME: the Iranians & the Palestinians scored the highest, while the Israelis … (Separate interviews to NRK Radio & Dagsavisen, July 2009).

9. Ms. Wold's interview with a Palestinian family the same day Israel celebrated its 62nd Independence Day, not in additionto interviews with Israelis, instead of! (20/4/10).

10.  Ms. Wold's following claims:"…Even ahead of the meeting in the White house Netanyahu shows he only has contempt for the USA and the international community who demand Israel stop building in the middle of Arab neighborhoods in East Jerusalem. Netanyahu seems willing to go all the distance, and if he meets with resistance, he intends to destroy the Jewish voter base of Barack Obama, in order to see that Barack Obama only will have one period in the White House…" (2010). Pls. note that in addition to her pure speculations, she does not doubt the Palestinian side's will for Peace.

11. Ms. Wold's negative response to cooperate with the IDF spokesman – IDF footage, exclusive interviews – during the last flotilla's events, in sharp contrast to other colleagues and her self-declared cooperation with the flotilla's organizers/activists (June 2010). This has become a regrettable pattern for Ms. Wold, failing again & again to bring official Israeli response to criticism.
Read about how Ms.Wold refused to meet with IDF spokeswoman Avital Leibovich during the SKUP conference in April 2011, with Ms.Wold stating "Why should I meet with a representative from an occupying military force" and "I have no wish to be dragged through the mud".
12.  Ms. Wold's claim that Israel objects to People To People's initiatives, the same day a PTP delegation from Israel was visiting Oslo! (June 2010).

13.  Ms. Wold's three web-reports (Religious debate, Bedouins, Gaza), showing: a) very little understanding of Israel's point of view, b) grave distortions/exaggerations such as "Gaza being surrounded by an 8 meters Israeli wall", with no mention of Hamas' responsibility for the situation nor the fact that more than 30% of Gaza's electricity is supplied by … Israel, c) clear bias (July-August 2010).
Read also about how Ms.Wold got a dishonorable mention in the 2010 Dishonest Reporter Award, after having faked an interview with Israeli academic Manfred Gerstenfeld.
14.  NRK's recent & immediate adopting of the Lebanese version to the shooting incident on the Israeli-Lebanese borderdespite the fact it wasn't true, while totally ignoring the Israeli accurate-proven one (3/8/10).

15.  A recent example of NRK's biased approach both towards history & analysis can be found in O.K. Tveit's "contribution" to Urix, 7/9/10: "The world got the impression that the US would tame the Israeli appetite for Palestinian land", with not even a mention of the Palestinians' rejection of the 1947 Partition Plan or of Israel's previous withdrawals for the sake of Peace (the latest from Gaza in 2005) or of Palestinian terror!
Read also about how NRK journalist Odd Karsten Tveit looked straight into the camera and told the audience that Egypt "has never attacked Israel".
16.  Another example, demonstrating bias or ignorance can be found in the above-mentioned program when NRK's reporter asks FM Stoere a question including "… an extreme rightist Israeli government" (while Israel's government is a coalition one, including Labor…).

I'm certain that a more thorough review than mine will find many additional examples which all sum-up into an "agenda" and indicate a most disturbingNRK's trend which is in contrast to both fairness & the most fundamental of Journalistic ethics.