The Tundra Tabloids is still mulling over Carl Bildt's welcoming Swedish activists last year, who tried to break Israel's and Egypt's (at the time of Mubarak) legal weapons blockade of the Gaza Strip. Bildt welcomed these Swedish (and assorted others) Hamas sympathizers with open arms, … the immoral creep.
Now Bildt stands in judgement of the True Finns? In a normal society the Sweden Democrats would be making as tremendous gains as the True Finns. Why they haven't been as successful as the Finnish party, shows the depth of socialist brainwashing and corruption that has held sway over that society for more than 5 decades. KGS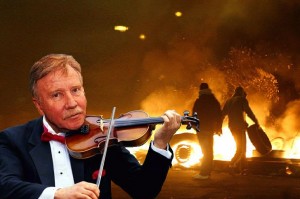 NOTE: Meanwhile Malmö burns and the mayor, Ilamr Reepalu, fiddles to the sound of Jews packing up and leaving.
Sweden mulls impact of Finnish far-right rise
Sweden's foreign minister Carl Bildt has expressed concern over the possible impact of the Finnish elections on Nordic and EU countries, after the emergence of a nationalist party as a political force.
In a blog post entitled "Finland's business and the Nordic countries", Bildt concluded that the election success of Perussuomalaiset or the "True Finns", on an anti-immigrant, anti-EU platform presented a challenge for Finland and its relations with the region.
"A Finland which turns its back on both the Nordic countries and Europe would be another Finland. I don't think it will go this far though. The other major parties have a clear line on these important issues," he said.
Carl Bildt furthermore highlighted the cause of the Swedish minority in Finland.
"From a Swedish perspective there is reason for concern over the tone adopted by the party against the Swedish minority," Bildt added.
The Local reported last week that the European Council had expressed concern over the status of Swedish as an official minority language in Finland.
The True Finns support the abolition of bilingualism and an end to Swedish as a compulsory subject in schools.
NOTE: Carl Bildt's party and the rest, except for the Sweden Democrats, pander to the anti-Semitic Muslim community for votes.