Hamas continues to keep firing its war criminal terror rockets at Israel. There is going to be hell to pay once the Israelis say enough is enough. I know of no other state that would put up with rockets being launched at it, none, and when they do finally act in a mroe agressive way, out come the Left-wing nut-jobs crying foul.
Where in the hell are they now? Where are all the Left-wing flakes demanding a peaceful resolution to the conflict, in other words demanding the Hamas and Fattah to forswear any use of force to end the dispute? I'll tell you where they are, they're all running loose in the Gaza strip with "resistance" stamped to their arms and foreheads minus one, who was offed by other competing terrorist thugs. KGS
NOTE: Friends of slain Italian activist Vittorio Arrigoni readying their terrorist war crimes rocket.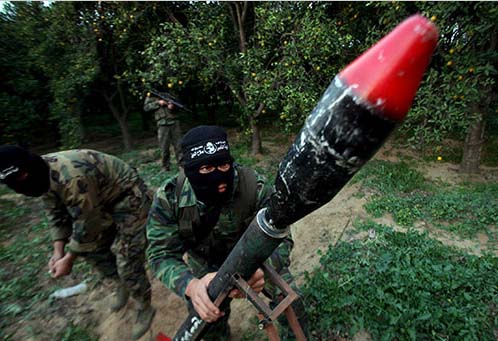 IAF hits terrorist bases in Gaza following rocket launches
By JPOST.COM STAFF
04/16/2011 02:59
The IAF attacked two Hamas military bases near Gaza City overnight Friday following two Grad rockets fired towards Ashkelon. One of the Hamas bases hit in Gaza was north of Zeitun, and the other near the Shati refugee camp. No casualties were reported.
The IDF spokesperson said that the strikes were in response to the Grad rockets fired at Ashdod earlier Friday and said the army will "not accept rocket fire at southern communities and will operate against all acts of aggression against Israeli citizens."
Earlier Friday, following nearly a week of quiet for the residents of the South, sirens were heard in the Ashdod area, a warning issued after two Grad rockets were launched from the Gaza Strip.
The rockets exploded in open fields and no injuries or damage were reported.
The communities bordering the Gaza Strip had enjoyed a short period of relative quiet since last Sunday. A tense quiet settled over southern Israel this week after a shaky informal cease-fire went into effect, ending several days of attacks from Gaza and IDF counterattacks.