Well, what's one to expect while galavanting around Gaza teaming with fundamuslims. Dhimmis are pawns, tools to be used, whether in demonizing Israel or in getting some of your fellow terrorist thugs back from other terrorist thugs. KGS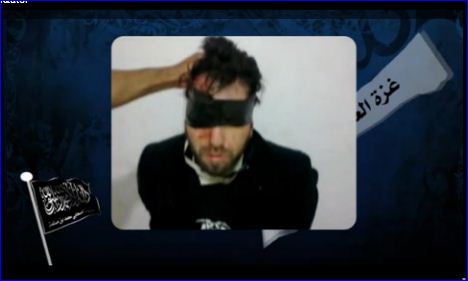 Gazans Abduct Italian ISM Activist
by Gil Ronen and Gavriel Queenann
Follow Israel news on and .
Salafist Muslims in Gaza have kidnapped Vittorio Arrigoni, an Italian member of the anti-Israel International Solidarity Movement (ISM), Bethlehem-based Ma'an News reported Thursday.
The kidnappers belong to A-Tawheed wal Jihad, a terror group of the Salafist Muslim stream. They have released a video showing Arrigoni bruised, tied and blindfolded, and text scrolling across the screen "threatens that he will die unless Hamas releases Salafist prisoners by 5 p.m. Friday."
The organization wants Hamas to release all of the members of their organization who are currently jailed. Topping the list is a senior member of the group, Hisham al-Sa'adi.
Sources in Gaza told Voice of Israel state-run radio that Arrigoni has been living in Gaza for several years after arriving there on one of the Free Gaza boats.
Arrigoni writes a blog for for Guerrilla Radio and for communist newspaper Il Manifesto. During Israel's Cast Lead counter terrorist offensive in Gaza, he wrote: "Israel has every right to laugh and sing, even while it massacres its neighbor. Palestinians are only asking to die a different death, one of old age."

If the video does not appear, please click here:
NOTE: Vittorio Utopia Arrigoni during happier times shouting down Israel with his Pali (at the time) friends.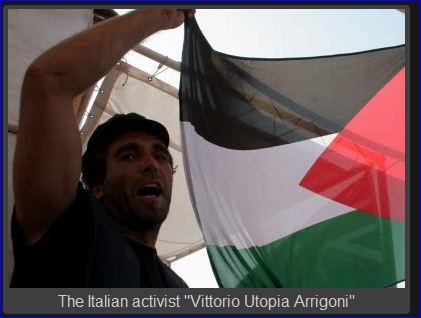 H/T:MyPetJawa