His name, Ephrem Tadele Yohannes, an Ethiopian, who brutally murdered this woman, check the brutal details here, warning, there are pics, and they are very graphic.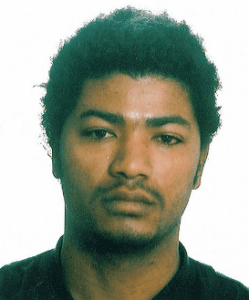 Man guilty of 'ruthless' Gothenburg killing: court
Published: 13 Apr 11 15:38 CET | Double click on a word to get a translation
Share
The 23-year-old man accused of murdering Elin Krantz in September last year was found guilty by the Gothenburg District Court on Wednesday. Before sentencing he will undergo a psychiatric evaluation.
"I am very pleased. I have argued from the beginning that our evidence was conclusive," prosecutor Stina Lundqvist told local newspaper Göteborgs Posten (GP).
Elin Krantz and her alleged killer were riding the same tram to the Hisingen neighbourhood near Gothenburg in western Sweden in September 2010.
Shortly thereafter Krantz was found raped and murdered in a wooded area not far from the tram stop, according to the investigation.
The 23-year-old man was arrested shortly after the killing. In March he was charged with murder and aggravated rape.
According to the prosecutors, the attack was one of "extreme ruthlessness".
Elin Krantz, RIP