Because that's just what they do.
The Assad regime is acting according to how the Tundra Tabloids expects it to act, violently, and with extreme intimidation. There will be no revolution there without major bloodshed, the vastly outnumbered Alawite clan cannot afford to let the reign of power slip from its grasp, otherwise it's as Barry Rubin put it: "Against the wall and bang, bang, bang".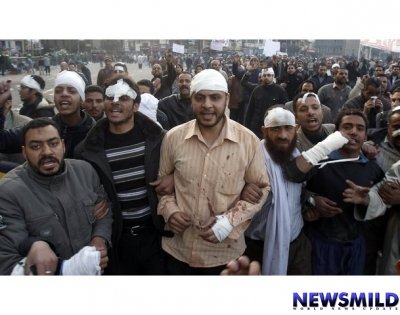 Also: Casualties Rise In Syria During Anti-Government Protests
Syrian forces fire at mourners after mass funeral
AMMAN (al-Reuters) – Syrian security forces opened fire on mourners near a mosque in the flashpoint city of Deraa after a mass funeral for pro-democracy protesters, two witnesses said on Saturday.
Security forces used live ammunition and tear gas to disperse thousands of people who were chanting freedom slogans after assembling near the old Omari mosque in the old quarter of the city, near the border with Jordan, the witnesses said.
Dozens of people have been killed in a wave of protests across Syria against the rule of President Bashar al-Assad.
A Syrian rights group said at least 37 people had been killed in protests across the country on Friday.
"Syrian security committed (in Deraa) what could be called a crime against humanity," the National Organization for Human Rights said in a statement. "It fired indiscriminately on protesters and killed and wounded tens of them."
State television for its part said armed groups had killed 19 policemen and wounded 75 in the city. The Interior Ministry warned it would not tolerate breaches of the law and would deal with "armed groups," state news agency SANA said.
WOUNDED YOUTHS
A witness in Deraa said he had seen at least four youths wounded by snipers being taken by protesters to a nearby clinic.
Residents say people avoid taking many of the wounded to state-run hospitals for fear the injured will be arrested by plain clothes security personnel stationed in hospitals.