There needs to be a setting of the record straight before this story gets way ahead of itself.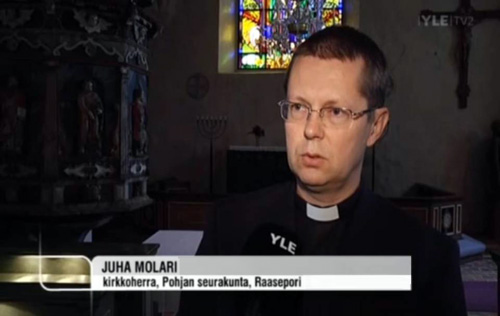 Juha Molari: "There's support in Finland of Islamofobia. There is support for radical Islamists in Finland at the same time Finland has strengthened Islamophobia, in particular by the Christian Democrat, Päivi Räsänen and the True Finns, along with a bunch of others."
The video report by Russia Today sent to the TT by Vlad Tepes says that the priest, Juha Molari, is being prosecuted for calling a terrorist… a terrorist, but as far as the Tundra Tabloids can ascertain, that's not the case, that's just the meme being spread by the Russia Today news network.
The marxist pastor is of course wrongly being persecuted by the Finnish state, and it's also true that the Finnish state prosecutors office deems the Chechen terrorist, Doku Umarov, "a statemen" and maintains a jihadi website and Chechen office in Helsinki. However, their investigation / case against the Lutheran priest for, is his stating that all the Chechen refugees coming to Finland have ties to terrorism.
Also, one of the people aligned with this pastor who's featured prominently in the Russia Today report, has been on record for supporting sharia law: Johan Bäckman here are just but a few snippets:
But by introducing Sharia specifically as a mediation system, can the incorporation of human rights be better supported."
"Unfortunately, our understanding of Sharia law is very islamofobic."
"Sharia law must be immediately become part of the judicial system for the entire European Union. Finland could set a good example."
Many Muslim women are of the opinion that the station of women in the West is weaker than in Muslim countries."
For this pastor to somehow be  promoted as champion fighter against fundamentalist Islam, while his close colleague, Johan Bäckman, is a vocal supporter/advocate of totalitarian sharia, the same sharia mind you, that terrorist, Doku Umarov, is implementing in areas under his control, is farcical.
Someone needs to start asking some serious questions about this couple of "free speech" advocates,. While the Tundra Tabloids wholly supports free speech, and that means supporting Molari's right to say what he did, the TT does not jump to their  cause, nor supports Johan Bäckman, who has been proven to be a liar.  KGS
NOTE: Here is Johan Bäckman's SAFKA website where his other pal, former Finnish Islamic Party spokeman, Abdulla Tammi interviews a Marxist who goes by the name of Leo "Robin Hood" Nieminen, who's running for parliament elections. Robin Hood wants a serious distribution of wealth, with each Finn being paid by the state, 1,400 Euros a month tax-free.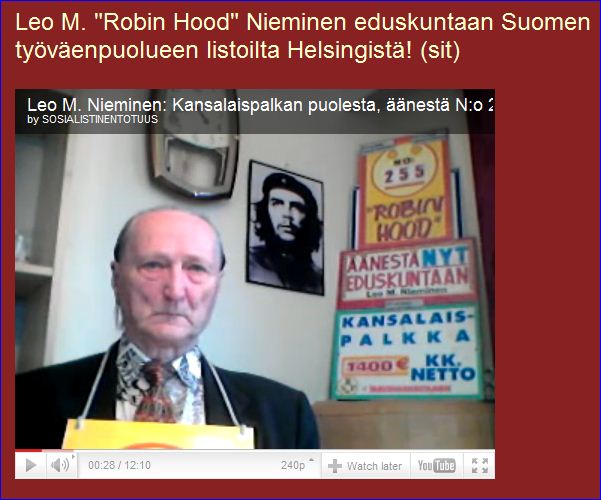 The Tundra Tabloids knows that it's Risto "Abdullah" Tammi interviewing him by the sound of his voice. So these are the people connected to this Lutheran pastor. Just thought everyone should know before they make this "dream team" a Cause célèbre.
The state shouldn't be picking on the Marxist for speaking his mind, as well as allowing for a jihadi website to broadcast from Helsinki. This is one weird story.
NOTE: Special thanks to Vasarahammer for some of these links