Today is the first day of advanced voting in Finnish parliamentary elections, and the Finnish Greenie left-tards take to violating the law. Anyone smell a rat here? If I were the other parties I would ask the police to investigate the people who participated in this political demonstration to ascertain if any of its participants were a part of the Green Party's election campaign. KGS
NOTE: First it was YLE in a thinly veiled anti-True Finns documentary about populism in Europe, aired last week on the state broadcaster's channel, now it's the Greenies. Also, Vlad says that they have to be bought out by the Saudis, every scientist knows that nuke power is far safer than fossil fuels and that even in light of the Japanese issue.
H/T: Kumitonttu via Pikkupoika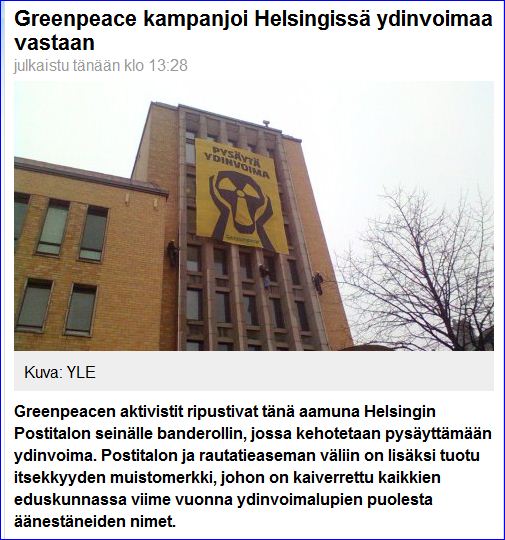 Greenpeace campaigns against nuclear power in Helsinki
YLE: Greenpeace activists hung a banner on the wall of the Post Office in Helsinki this morning, calling to stop nuclear power. Moreover, between the Post Office and railway a monument to selfishness has been erected which is engraved with all the names of those who voted in parliament last year in favor of nuclear power permits.
The campaign wants to remind voters of the nuclear issue on the first day of advance voting.
Several environmental organizations launched Vote for the history of nuclear power campaign has collected commitments from people to vote for candidates which last year voted against being in favor of more nuclear power or a new candidate which opposes nuclear power.