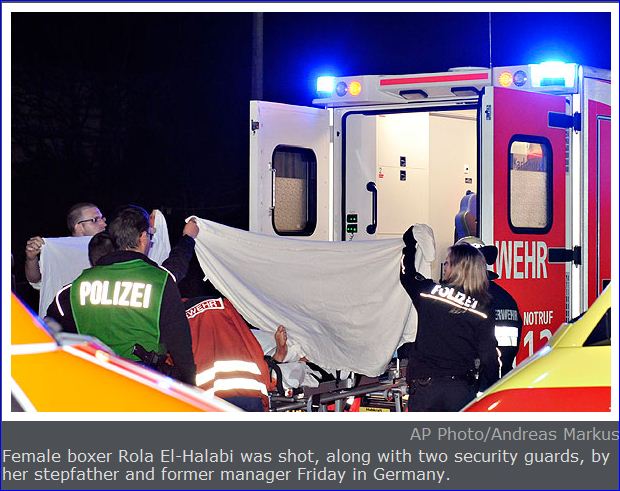 A possible "honor shooting"? No way of telling yet, just something to tuck behind the ear and wait for the dust to settle. There's going to be a trial over this so wait and see. KGS
UPDATE: So it's indeed looking like a case of honor violence: ESPN:
"When I had problems I could talk with him about anything, except when it was about boys. That was taboo," El-Halabi said."
H/T: A TT reader

Women's boxing champ shot by stepfather
Published: 4 Apr 11 09:03 CET
World champion German boxer Rola El-Halabi is unlikely ever to fight again after she was shot repeatedly by her stepfather in her dressing room before a bout on Friday night.
Roy El-Halabi, who was also his stepdaughter's manager until she sacked him in January, burst into the champ's dressing room at the Berliner Trabrennbahn and shot her in the right hand, the left knee and both feet, news reports said.
The shooting happened just minutes before Rola El-Halabi was to fight for her third world title. She had sacked her stepfather as her manager in January after the pair fell out over the boxer's new boyfriend.
She was warming up, her boxing gloves already on, just 10 minutes before her bout against Bosnian Irma Adler, when her stepfather burst into the room. Roy El-Halabi also shot two guards, both of whom are recovering in hospital.
The boxer had five operations over the weekend. Her promoter, Malte Müller-Michaelis told sports news wire SID: "Her operation went smoothly, but the shots were intended to end her career and it seems almost certain that that will happen."