Yemenis are mystified, I mean really mystified over it, to the point of wearing *food on their head. KGS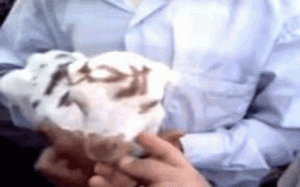 Sheep in Yemen born bearing word 'go' on head
24/7: A sheep was born in Yemen bearing the word "irhal" (go) on its forehead, the word that has been used over the past weeks by thousands of protestors against Yemeni President Ali Abdullah Saleh.
Hundreds of people converged on the town of Dalei south of Sanaa to see the sheep and most of them said the word was real.
"Yemeni media affirmed that the word was born with the sheep and was not a fake word written by its owner," said the Saudi 'Kabar' newspaper, which ran the brief story along with the sheep's picture.
"Some of them described the sheep as a miracle and a sign from God the Almighty supporting the people's demands for Saleh to go…the sheep owner has received many offers to sell the animal but refused."
*NOTE: picture taken in Cairo during the rock fights in Tahrir square.