They are shameless. Utterly. The OIC denies Islamic anti-Semitism while shamelessly exploiting the Holocaust of the Jews. KGS
H/T Kumitonttu
COMMENT from Daled Amos: "I suppose Dahmane does not appreciate the irony that it was the Muslims themselves who imposed distinctive clothing on Jews and other non-Muslims for centuries–and served as the inspiration for the Nazi's yellow Jewish star."
"A lay Muslim politician caused a stir this week by suggesting Muslims wear a five-pointed green star to protest against what he called persecution recalling that of wartime Jews forced by the Nazis to wear a yellow Star of David."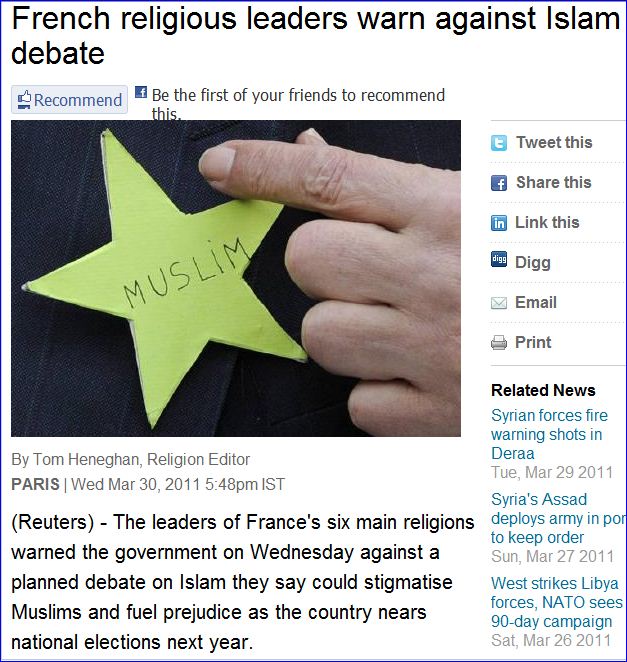 Weighing in on an issue that is tearing apart President Nicolas Sarkozy's ruling UMP party, the Conference of French Religious Leaders said the discussion about respect for France's secular system could only spread confusion at a turbulent time.
The UMP plans to hold a public forum on secularism next week that critics decry as veiled Muslim-bashing to win back voters who defected to the far-right National Front at local polls last week and could thwart Sarkozy's reelection hopes in 2012.
Sarkozy's allies are split over the populist strategy, with moderates such as Prime Minister Francois Fillon publicly opposing what they see as the UMP's drift to the far right.
Stressing that faith should foster social harmony, the religous leaders said the debate could "cloud this perspective and incite confusion that can only be prejudicial."
[…]
"This fascist climate evokes the sombre history of the Occupation in France, which sent thousands of Jews by train to the death camps," he said in a statement on Tuesday.
Richard Prasquier, head of the Jewish umbrella group CRIF, called the green star idea "totally grotesque."
Abderrahmane Dahmane, who was fired as Sarkozy's advisor for diversity issues this month after criticising the UMP debate, also criticised Cope for suggesting Muslims should no longer pray in Arabic — the language of the Koran — in their mosques