The True Finns have not had the same problem with political violence as the Sweden Democrats but it looks like something is amiss here, this was no simple theft. KGS
H/T: Kumitonttu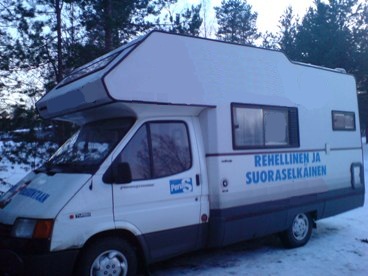 (Archive photo)
True Finns election RV broken into
Sunday 27/03/2011 at 14.03
"True Finns scarves were not good enough."
IL: The True Finns 'Three Musketeers', and  countess,  on tour for the parliamentary elections received a nasty turn yesterday when their RV was broken into.
The tour includes four True Finn parliamentary election candidates: Juha Väätäinen, Pekka Tiusanen, Seppo Kanerva and Tuula Kuusinen. Kanerva's election chief, Petri Haapanen, says that the RV functioning as an election tour car had taken from it inlcuding a microwave, an election worker's navigator and a rear parking monitor.
– True Finns scarves were not good enough, "says Haapanen.
According to Haapanen, the burglar had also made quite a mess of the car. The situation annoyed the election campaign manager.
– Just like someone would have come into your home.
Haapanen is not yet able to say whether the vandalism  was specifically towards the True Finns, or did the thief just by chance choose the party election car. The break in was done yesterday at 17 to 18.30 during the period it was at the Kontula mall parking garage loading dock.