This jackass racist is joined at the hip with Gadaffi, they're buds in fact, who has publically supported the dictator at every chance possible. Of course Farra-khan-of-crap would never contemplate the fact that Islam enslaved his ancestors from Africa at a far greater number than the Atlantic slave trade ever did, and to this day, the entire Islamic world refuses to own up to the role that their ancestors played in the African genocide.
Nope this racist huckster shakes hands with a Libyan Arab whose ancestors enslaved his people and whose ideology (Islam) promotes a supremacism that's unrivaled in the history of the world. KGS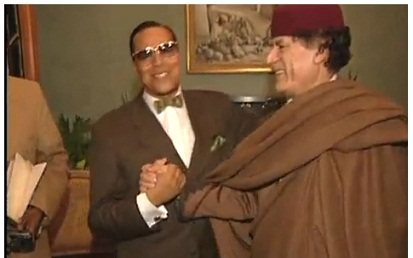 NOTE: The picture below captures this idiot's mentality.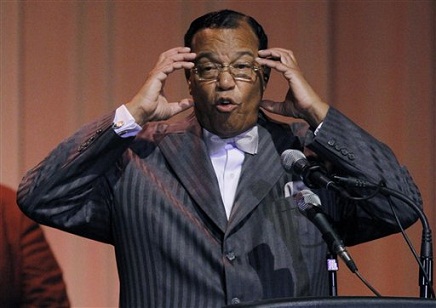 Farrakhan defends Gadhafi, pans US role in Libya
JACKSON, Miss. (al-AP) – Nation of Islam Minister Louis Farrakhan said Friday that the United States lacks the moral authority to attack the forces of embattled Libyan strongman Moammar Gadhafi.
The 78-year-old leader of the Chicago-based organization received cheers Friday night from a packed crowd at a civil rights conference at Jackson State University.
Farrakhan said his friend Gadhafi has played the role of a forceful parent in post-colonial Libya.
"When you come out of a colonial past where you have lost the value of your own self-interest, God raises somebody from among you that can instill in you the value of yourself again and that person dictates the path until you have grown into your own self-interest," Farrakhan said of Gadhafi.
The minister did not address Gadhafi's alleged role in the bombing of a Pan Am flight over Lockerbie, Scotland that killed 270 people in 1988.
Farrakhan gave several reasons why the U.S. lacks the moral authority to intervene in the Libyan conflict, including the deaths of black people at the hands of law enforcement during the Rodney King protests in 1991 and the unhealthy food that the federal government allows into the marketplace.
"The American people are dying, and the Food and Drug Administration is complicit," he said. "Greed is more important than the lives of the American people."
Farrakhan made his remarks at the 6th annual Veterans of the Mississippi Civil Rights Conference.