So what will the Assad regime do, they haven't the money of the Saudis to throw around, so it's the TT's guess that they play along until the time is right, and then crack down, hard, on the protesters. Just you wait and see. KGS
NOTE: Of the Alawis, TE Lawrence wrote of their isolationism: "The sect, vital in itself, was clannish in feeling and politics. One Nosairi would not betray another, and would hardly not betray an unbeliever."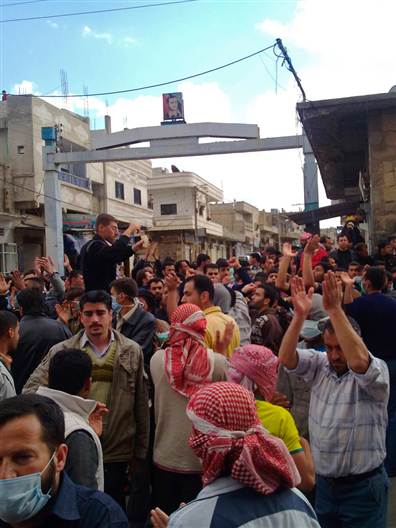 Six Protesters Killed in Syria
DAMASCUS, Syria — At least six people were killed early Wednesday when Syrian security forces attacked protesters who had taken refuge in a mosque in the center of the southern city of Dara'a, news agencies reported.
At the same time, Syrian state television described a very different scene on Wednesday, showing footage of guns, grenades and ammunition that it said was taken from inside the mosque. The television report acknowledged four dead, but claimed they had been killed when "an armed gang" attacked an ambulance, The Associated Press reported.
Why the accounts of violence and of the number killed differed was not immediately known.
On Tuesday, antigovernment protests had continued for a fifth day in Dara'a, before hundreds of demonstrators sought protection from the army in the Omari mosque. The protesters were calling for political freedoms and an end to corruption, and they had said they would remain in the mosque until their demands were met, Reuters reported.
UPDATE: H/T Ethan:At least six people are believed dead after Syrian forces fired on protesters near a mosque in the southern city of Deraa. One of those killed is said to have been a doctor who went to help the victims in the attack.