They can't help themselves to get it wrong, even after all the taxpayers money that goes to fund their sorry carcasses. KGS
YLE: EXCEPTIONAL BOMB-STRIKE IN JERUSALEM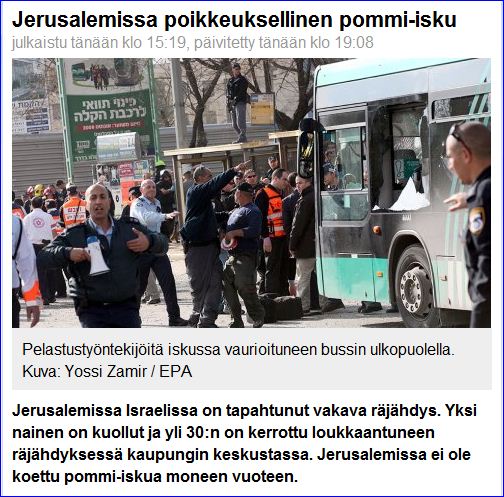 Translation:

There has been a serious explosion in Jerusalem. One woman is dead and over 30 have said to be injured in the explosion in the city center. Jerusalem has not seen an attack in many years.
Eh, not so fast YLE, try only 15 days ago in the sourthern portion of J'lem, in the suburb of Gilo. KGS

More here on the Gilo terrorist bombing.
The Elder of Ziyon has more on the international bumbling media that must have had a trickle down effect here in Finland which relies heavily on the BBC and Guardian