THE EVIL BASTARDS ARE AT IT AGAIN
UPDATE1: The Tundra Tabloids is hearing from back channels that at least one person is dead. Now hearing about a second, not verified yet.
H/T for video, Yid With Lid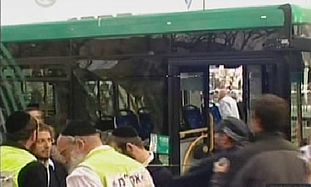 UPDATE2: 25 injured at bus stop explosion: At least 25 people have been injured in a bomb blast at a crowded bus stop in Jerusalem, apparently the first militant attack in the city in years. The blast could be heard throughout Jerusalem and blew out the windows of two crowded buses .Read more:
UPATE 3: Someone who was at the scene tells the TT that:"foreign TV crews there trying to push their way onto the scene while police and first responders were trying to evacuate wounded. the whole place was a mess. anyone and everyone who wasn't in uniform or a first responder/medical/etc was kept out of the scene. journalists were just the pushiest about trying to get over the line." (unverified:but rumor has it that it was a BBC journo)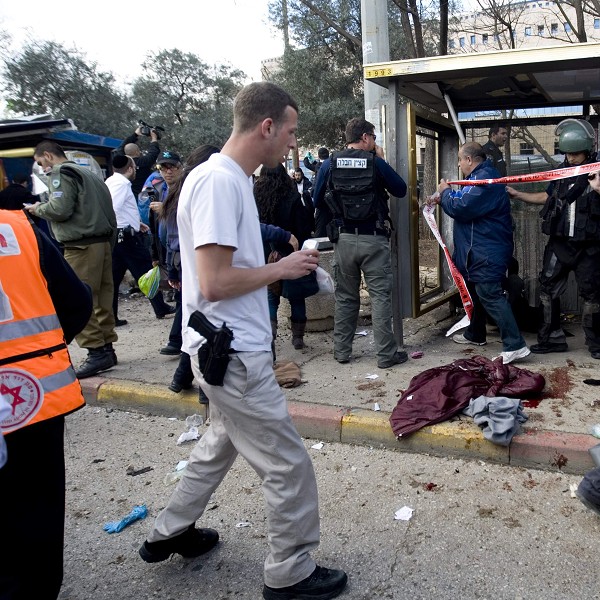 Bus hit by blast in Jerusalem, around 20 hurt
JERUSALEM – A BUS was hit by a massive explosion outside Jerusalem's central bus station on Wednesday, medical sources told AFP, saying around 20 people had been wounded, some of them seriously.
The explosion occurred shortly after 3.00pm (1300 GMT, 9.00pm Singapore time) and shook buildings hundreds of metres away, witnesses said.
An AFP correspondent at the scene saw people lying on the floor covered in blood, and many cars and buses with shattered windows.
Sirens echoed through the city as dozens of ambulances and fire engines raced to the scene, with media reports taking of at least three people who were very badly injured. — AFP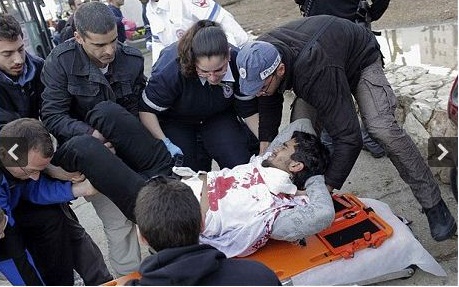 20 injured, 3 seriously in J'lem bus bomb
03/23/2011 15:22
An explosion took place on or near a bus in central Jerusalem Wednesday afternoon.
Police said that a bomb exploded outside Egged bus number 74 at a station opposite the Jerusalem Conference Center in the center of town.
Magen David Adom said that there were 20 people injured. Three people were seriously injured, and that CPR was performed on two of them. Of those seriously injured, were a man and two women.
Five people were moderately injured and the remainder lightly to moderately. MDA said that no deaths took place.
Police suspected that an explosive device inside a bag was left at the bus stop, which then exploded.
A large number of police and ambulances were on the scene.
ALSO
Vlad is informing with the following:
Israel braces for flare-up as Gazan rockets hit
JERUSALEM (Reuters) – Palestinian rockets struck two cities deep in Israel on Wednesday, wounding a resident and prompting Prime Minister Benjamin Netanyahu to threaten lengthy "exchanges of blows" with the Hamas-ruled Gaza Strip.
Islamic Jihad, a smaller Gaza faction and occasional Hamas ally, claimed responsibility for the attacks on Beersheba and Ashdod.
They followed Israeli air strikes and shelling in the Gaza Strip on Tuesday that killed four Palestinian civilians, including three children playing football, and five militants, medical officials said.