Maybe Obama can send his delivery boy again, John Kerry, with another letter to Hamas. KGS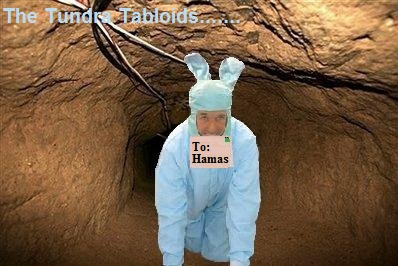 Obama's letter: Dear Islamic purists of Gaza, could you kindly please refrain from digging your tunnels and smuggling in rockets, missiles and other ordinances into the Strip that are solely meant to target Israeli civilian centers? Thanks B.O.
Hamas digging 'terror tunnels' along border with Israel
By YAAKOV KATZ
03/21/2011 00:34
J'lem Post: Gaza groups now have missiles that can reach Tel Aviv, and are working on improved communications systems modeled on Hezbollah network.
Facing a possible new conflict against Hamas, concern is growing within the IDF regarding increased efforts by Palestinian terrorist groups to dig tunnels under the border that could be used to infiltrate into Israel and perpetrate attacks.
According to IDF sources, the number of tunnels has grown in recent years. Hamas is under orders to dig "terror tunnels" along the border.
Hamas has split into five different regional brigades – north, Gaza City, central Gaza, Khan Younis and Rafah.
The exact number of tunnels is unknown to the IDF.
Tunnels have been used in the past by Hamas and other terrorist groups to infiltrate into Israel. The terrorists who abducted Gilad Schalit from his military post near Kerem Shalom, in June 2006, crossed into Israel through an underground tunnel.
Palestinian terror groups in Gaza have made some major improvements to their military capabilities since Operation Cast Lead over two years ago, it is understood. One of these improvements has been in missile capability, with the addition of new long-range rockets, like the Iranian-made Fajr-5 that has reportedly been smuggled into Gaza and can reach Tel Aviv.
Hamas and Islamic Jihad are also believed to have obtained new guided anti-tank missiles like the Kornet, Fagot and Sagger, one of which was fired at an IDF patrol on Friday.