Yet to date, there are no Christian/political groups on scale of the Muslim OIC (the WCC is not a political body of the same scope), forcing anti-Christophobia legislation down the throats of the world's leaders. Nope, it's just Islamophobia that rules the day and the chief concern for us all, at least that's Muslims' story line and they're sticking to it. KGS
H/T: The always reliable, Scottish Infidel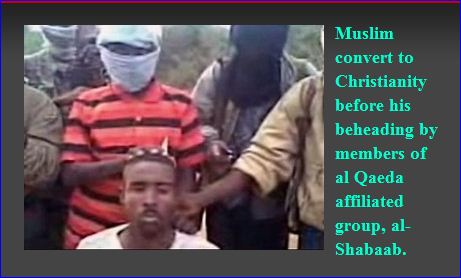 75% of rights abuses 'aimed at Christians'
MARISA DUFFY
14 Mar 2011
A REPORT highlighting human rights abuses against Christians around the world is to be launched in Glasgow.
The Catholic Church agency, Aid to the Church in Need, estimates that 75% of all religious persecution around the world is directed against Christians.
That equates to around 100,000 people facing persecution.
The hard-hitting report will be launched in Scotland at St Rollox Church of Scotland by Cardinal Keith O'Brien and Archbishop Bashar Warda of Erbil in Iraq.
Speaking ahead of the launch yesterday Nather Eisa told how he was forced to flee to Scotland from Iraq with his family.