Yemeni Democrats rallying for freedom, liberty and rights for the individual and protection of minorities. Well, belay that, it's just Yemenis rallying for more Islam. KGS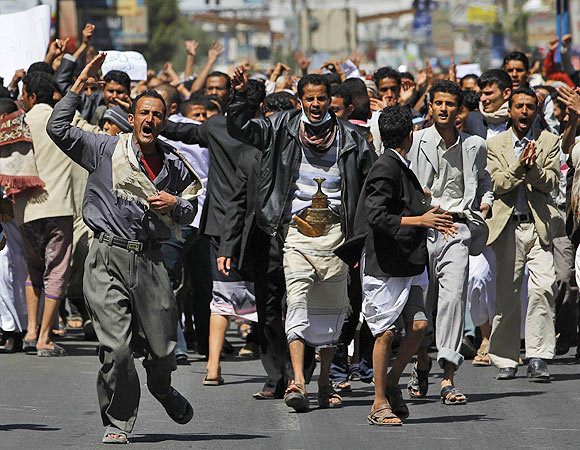 Yemen police fire on protests; 2 killed
ChronCom: SANAA, Yemen — Yemeni security forces fired live bullets and tear gas on two pro-democracy demonstrations Saturday, killing two people — including a 15-year-old student — as the government clamps down on a growing protest movement, witnesses said.
The violence began with a pre-dawn raid on a central square in the capital, Sanaa, where thousands of pro-democracy protesters have been camped out for the past month to demand the ouster of President Ali Abdullah Saleh. An ally in the Obama's administration's fight against al-Qaida, Saleh has been in power for 32 years.
Doctors and eyewitnesses said security troops surrounded the square with police cars and armored personnel carriers shortly after midnight and began calling on protesters through loudspeakers to go home. At 5 a.m., security forces stormed in, firing tear gas and live ammunition.
One protester died from a bullet to the head, which may have come from a sniper on the rooftop of a nearby building, witnesses said. Abdelwahed al-Juneid, a volunteer doctor working with the protesters, said around 250 people were wounded.
"We were performing dawn prayers when we were surprised by a sudden hail of bullets and tear gas," said Walid Hassan, a 25-year-old activist. "The protesters began throwing rocks at security… it was total mayhem, a real battlefield."