What they need is more respect! Non-Muslims only needs to prostrate themselves just a bit more than they've already have, and the mussulmen will finally begin to accept them as second class citizens in their own land. KGS
H/T: Gaia
£50 insult to Britain's war dead: Veteran's fury as poppy burner enjoying a life on benefits gets paltry fine and mocks soldiers
Despite saying he would pay more for a parking fine, Choudhury said he would not pay up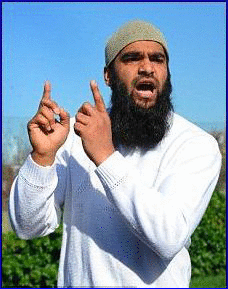 Emdadur Choudury hurling abuses at the very people who pay for his upkeep in welfare benefits. Great going Britain, it was nice knowing you while it lasted!

Emdadur Choudhury, who didn't bother to attend the hearing yesterday, claimed the charge levelled against him was 'ridiculous'
Choudhury, from Bethnal Green, East London, was found guilty of using threatening or abusive words or behaviour by District Judge Howard Riddle, following a one-day trial last month.

The maximum fine possible was £1,000, plus legal costs, and Judge Riddle said he had no doubt Choudhury had set out to shock and offend. Yet he fined him only £50, plus a £15 victim surcharge.

Although Choudhury sneered that he would have been fined more than £50 for a parking offence, he is refusing to pay. However the bill will be picked up by his 'good friend' Anjem Choudary, the notorious firebrand preacher.