The Tundra Tabloids met a truck driving Kosovar in Brussels some years ago, and though he spent the majority of his time in the West, he clearly identified with the Muslim East. Top on his list were the US "crimes" of supporting Israel, the war in Iraq and in Afghanistan etc.. You get the picture. KGS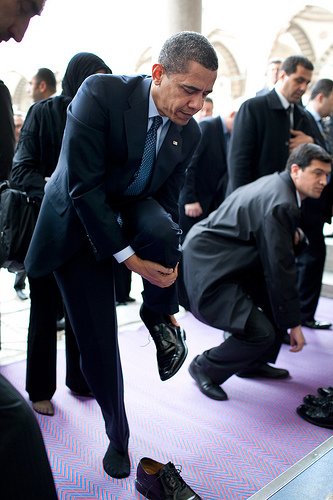 US President Barack Hussein Obama: "I'm saddened and I'm outraged by this attack," Obama said at the White House. "I want everybody to understand that we will spare no effort in learning how this outrageous act took place."
NOTE: It's called an act of jihad, Mr.President, which gets embedded into the jihadist's brain through a lot of reading of the Koran, and slamming his head into the carpet.
2 US airmen killed in Frankfurt airport shooting
They had landed at Frankfurt airport, one of Europe's busiest, and were waiting outside Terminal 2 to be driven to nearby Ramstein Air Base, which is often used as a logistical hub for operations in Afghanistan and Iraq. The two wounded airmen were taken to a hospital.
[…]
In Berlin, German Chancellor Angela Merkel expressed sympathy for the victims and their families and pledged that Germany would do everything in its power to investigate the crime. "It is a terrible event," she said.
A tall blue barrier was erected around the bus as forensic experts examined it, and removed two bodies from the vehicle. As the bus was later towed away, a bullet hole was visible through the driver's side window.
The dead and wounded U.S. airmen were not identified pending notification of their families. A Pentagon spokesman, Lt. Col. Todd Vician, said the airmen were on their way to an overseas deployment to Afghanistan, Iraq or elsewhere.
Boris Rhein, the top security official in the German state of Hesse, told German media there were no indications of a terrorist attack.
Still, a member of the U.S. House of Representatives Homeland Security Committee, Rep. Patrick Meehan, said in Washington that it looked like a terrorist attack. The chairman of the subcommittee that focuses on terrorism and intelligence added he did not have all the facts.
Kosovo Interior Minister Bajram Rexhepi identified the suspect as Arif Uka, a Kosovo citizen from the northern town of Mitrovica.
In Mitrovica, family members identified him as Arid Uka, saying that he was born and educated in Germany where his family moved some 40 years ago. However, German police said he was born in Kosovo.
An uncle, Rexhep Uka, said the suspect's grandfather was a religious leader at a mosque in a village near Mitrovica.
A cousin, Behxhet Uka, said he spoke to the suspect's father, Murat Uka, several times by telephone from Frankfurt after the family was contacted by Kosovo police. The father said all he knew was that his son did not come home from his job at the airport on Wednesday.
Behxet Uka said he would be shocked if Arid Uka was behind the shooting, saying that like the vast majority of Kosovo Albanians, the family is pro-American.
The northern town of Mitrovica is best known for the ethnic division between majority ethnic Albanians and minority Serbs. The former mining town has also been the focus of reports that it breeds Islamic extremists.
Western intelligence reports have said the region could be a recruitment ground for Muslims with Western features who could easily blend into European or U.S. cities and carry out terrorist attacks.
The Kosovo government said in a statement that it was "deeply moved" by what it branded as "a monstrous act" committed by a citizen of Kosovo origin.
"This macabre case is an individual act against the civilized values and the traditions of the Kosovo people who will always be thankful to the United States, the American people and the U.S. government for its strong backing of Kosovo," the statement said.