Let me guess, every reader of this story would be for revealing this piece of crap's name in the press, well that dovetails with the Tundra Tabloids' opinion as well. KGS
NOTE: If anyone has any tips on who this person may be, send it to the TT.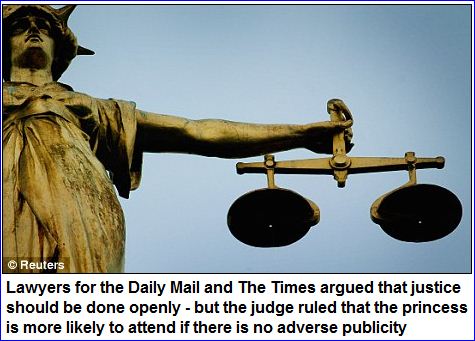 'Drunken' Saudi princess wins fight to hide her identity in court as she's accused of sexually harassing her British bodyguard
A Saudi princess accused of sexually harassing her burly British bodyguard was told yesterday her identity can remain a secret.
Her 40-year-old minder, who earned £100,000 a year guarding her family, claims the royal was engaged in drinking, illegal drug-taking and 'sexually promiscuous' behaviour.
The minder also says that she once kicked him in the groin 'knowing full well that he was recovering from invasive surgery to that area', and bit another member of staff in the cheek.
But lawyers for the princess successfully persuaded a court that she should be shielded from publicity as her life and that of her family could be put at risk.
It is the latest controversial ruling granting privacy to the rich and powerful after allegations about their improper behaviour.