Theft is what the Left does best…and we all know what this creep is going to do with it.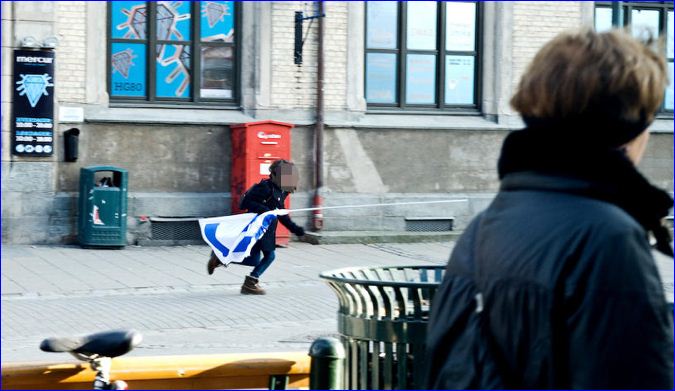 The more you come into contact with these morons, the more you begin to see just what kind of creeps lurk below the surface in any given city in the West. It's rather frightening to know really, that there are these kind of malcontents roaming the streets, popping up every now and then to show themselves and what they are capable of doing. Thanks to Esther of at Islam in Europe blog for the special heads up, much appreciated. KGS
SOS Racism shown stealing Israel flag
(Dagbladet): Members of the leadership of the Tjen Folket Party, Revolutionary Communist Youth and SOS Racism are now under police investigation in the wake of a demonstration in Trondheim last week.
– We received a review of the theft and the victim believes he was then prevented from running after it, "said duty manager at the South-Trøndelag Police, Are Løw-Owesen, to the Dagbladet.
The organizers believe that the bestjålet is "With Israel for Peace" (MIFF). 19. February had set up a stand in North street in Trondheim.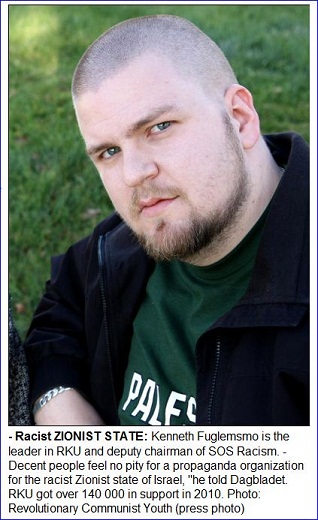 – In the review there are the pictures that they believe identifies the perpetrators. Police have started a investigation. We shall call both the photographer and those in the pictures for questioning, said Løw-Owesen.
– Harassment and stealing
Director Geir Knutsen, Trondheim MIFF filed the report on 21st of February.
– We reported to the police about the woman in the picture and Kenneth Fuglemsmo for harassment and theft, " the board member of Trondheim's MIFF Geir Knutsen, told the Dagbladet.
Knutsen says the woman in her 20s stole a flag from the stand, […] A photographer captured the moment from a cafe across the street, where she said Knutsen and photographers were running away from the area with the flag in their arms.
Caught on camera
– The picture was taken after someone cried "she's stealing the flag." She started running, "says photographer Roy Cato Myrvang that came across the episode.