This is going to be another one of those venues where the outcome is known far in advance of its convening. For starters, any venue that has anything to do with "dialogue between the faiths" and "peace in the ME", should immediately raise suspicion.
"Dialogue between the faiths" is just a euphemism for "more respect to be shown to Islam", and "peace in the Middle East", is just an opportunity to blame Israel for all that has gone wrong in the "peace process". We've seen this time and time again.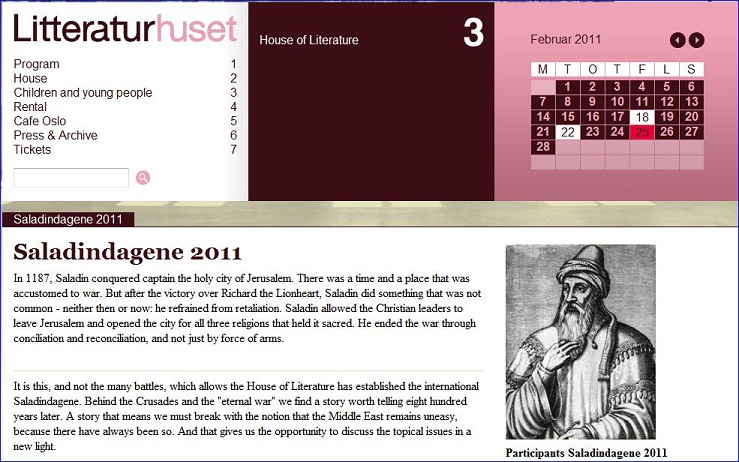 NOTE: Click here for the google translation of the Norwegian website page.
Norway, Israel and the Jews blog writes:
Erudite Norwegians are expected to despise Israel and to laud her enemies. Once again, Ilan Pappe is being invited to Norway, this time to speak at the Saladin-days at the House of Litterature. […]

Among the guests we find not only Ilan Pappe, but also Avi Shlaim. While it is true that Rabbi David Rosen and Hanne Eggen Røislien will also be present, the set-up of the Saladin-days is quite clear: This is yet another rigged fight where the outcome is guaranteed. People attending the seminar will leave them feeling more upset over Israel, more convinced that the Palestinian narrative is right, than they were when they arrived.
Here is the Israeli Ambassador to Finland and Estonia, Avi Granot, responding to the 30 minute rant by lunatic, and fringe 'historian', Avi Shlaim, which took place in Helsinki in December of 2009. The Tundra Tabloids' caught it on film.
H/T: HY