By way of "The Sheik", artist Sergio Redegalli has the following to say about the recent changes to his famous "Say No To Burqas" image on the back of building wall he owns:
'I have attached the image of my latest Mural, I have temporarily created this image over the SAY NO TO BURQAS mural, I will change it back in the next few days after enough Sydney  siders have seen it going past by train.'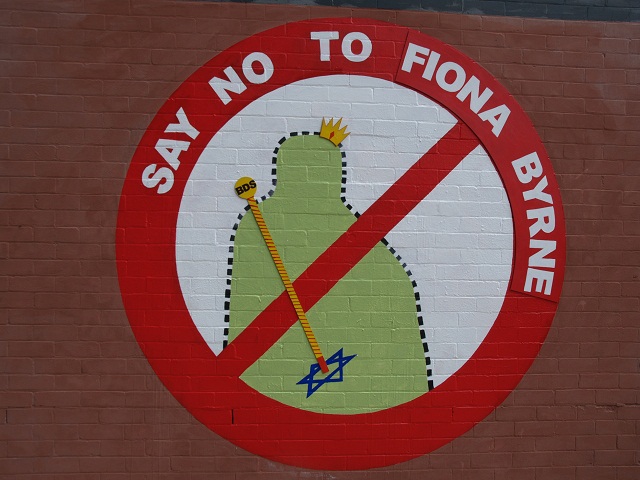 The Greens' Marrickville policy. NSW candidate and mayor Fiona Byrne on ABC Online's The Drum Unleashed on January 13:
On December 14 last year, Marrickville Council in Sydney's inner west resolved to support a boycott of goods produced in Israel and of cultural and sporting exchanges with Israeli institutions, withdrawal of funds from institutions and companies that invest in or do significant business with Israel, and the implementation of government actions [sanctions] that indicate disapproval of Israeli policies in the illegally occupied Palestinian territories.
NOTE: So the mayor of the town is a suck-up to the Muslims and to their twisted views of the Jewish state of Israel, hence the burka over her. If she's going to act like a dhimmi, she should go all the way, right? Thanks to Sergio for the effort and to the Sheik for bringing this to my attention. Cheers!