That didn't take long now did it? Shouts of allahu akbar fill the air after the priest received multiple stab wounds. Business as usual but without the threat of being arrested. KGS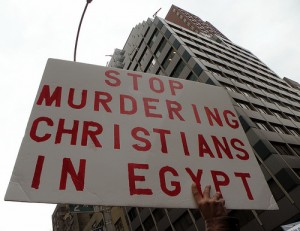 Coptic Christian priest killed in Egypt, setting off new protests by religious minority
ASSIUT, Egypt (AP) — A Coptic Christian priest has been killed in southern Egypt, triggering street demonstrations by several thousand Christians.
The priest was found dead in his home. A fellow clergyman, Danoub Thabet, says his body had several stab wounds. He says neighbors reported seeing several masked men leaving the apartment and shouting "Allahu akbar," or "God is great," suggesting the killing was motivated by the divide between Egypt's Muslims and its minority Coptic community.
About 3,000 protesters scuffled with Muslim shop owners Tuesday night and smashed the windows of a police car in the city, Assiut.