An attempt to scare his party base to turn out and vote?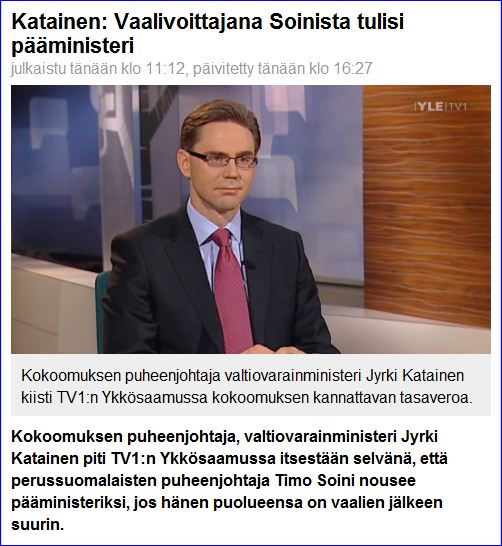 Katainen: If Soini is the winner of the election, he should be Prime Minister
National Coalition Party chairman, Finance Minister, Jyrki Katainen, made it clear on TV1 Ykkösaamu (political talk show) that it's self-evident that the True Finns leader Timo Soini will become prime minister if his party is the largest after the election.
[…]
European economic reforms are trying to be decided upon by late March. Because Finland is having a parliamentary election in April, the government will in any case have to leave open Finland's position. According to Katainen in the corridors of Brussels it's been already asked whether Finland's new parliament could overthrow entire economic stability package.
– My answer is that I do not know. I do not know what the Social Democrats and the True Finns are thinking Katainen said.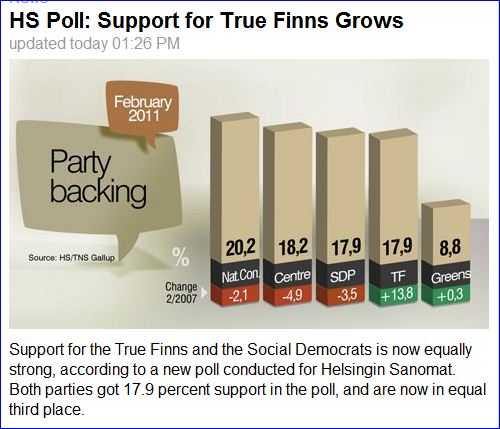 The True Finns had hosted just the other week the party spokesman for the UKIP, Nigel Farage, and if that's any indicator of what the TF leadership are thinking, then it's entirely reasonable to assume that the True Finns would seriously contemplate not approving Brussels' economic package for Europe. KGS
Vasarahammer has the following to say about the current state of affairs with the True Finns: "If the polls were based on raw data, the True Finns would get more than 20 per cent of the vote. However, the polling agencies adjust the figures downward based on their estimate of the expected turnout and the likelihood for the people to actually vote for the party.
That is because in the past the polls used to predict a high share of the vote to the Green party, which never materialized. Therefore, the agencies started adjusting the figures to get a better prediction of the likely election result.
Rumor has it that in some polls the True Finns have received 30 per cent support, which has been adjusted to a lower figure by the polling agency. It is impossible to say what will be the True Finns' actual share of the votes, but it will most likely be somewhere between 15 and 30 per cent. I would not be surprised if it were 30 per cent in the election day.
In the near future it will be interesting to see how the media will try to smear the True Finns. It is possible to see how media has suddenly started to use less flattering pictures of Timo Soini, even though the media in general has handled the leader of True Finns with kid gloves."