Now that didn't take long did it? Ghomin and other western leaning people like him were never in the running, the cast has been set for the eventual takeover of Egypt by the Muslim Brotherhood.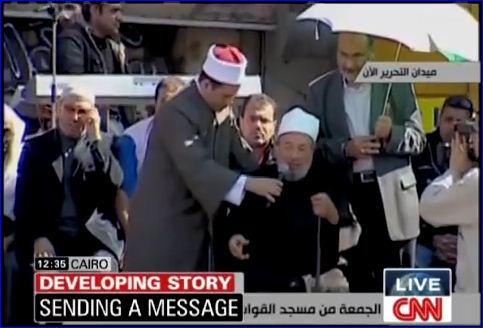 QARADAWI: ..Open wide the Rafah crossing and pray for the re-conquest of Jerusalem by the Muslims, so that I and the Muslims could pray in security at Al-Aqsa Mosque.
[This part of his sermon was cheered and applauded by the crowd.]
H/T: Frank Kitman
Cairo crowd addressed by cleric
In a troubling incident during Friday's events in Tahrir Square, Google executive Wael Ghonim – who emerged as a leading democratic voice in the Egyptian uprising – was barred from walking onto the stage by security guards.
When Ghonim tried to take the stage, men who appeared to be guarding Qaradawi barred him from doing so. Ghonim left the square with his face hidden by an Egyptian flag.
US Director of National Intelligence James Clapper said that despite the Muslim Brotherhood's claims, it was "obviously not secular," in comments made to a Senate hearing on intelligence.