Be prepared for the sheik to hit all the right notes of 'moderation' and 'democracy' and respecting human rights, then for the lap dog media to swallow his taqiyya laid steaming pile of crap in full.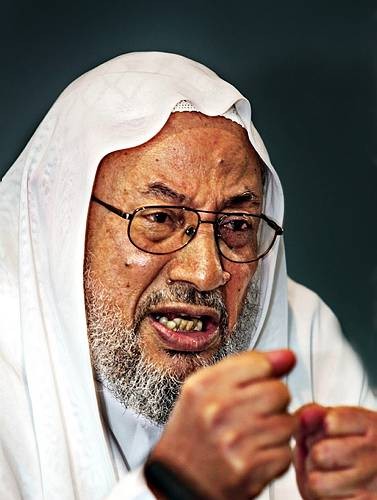 BBC: [Mr Qaradawi, who arrived at Cairo airport on Thursday, is expected to deliver a sermon telling Egyptians of the importance of their role in building a free and democratic society.]
Would you want to place your future into this democrat's hands? I think not. KGS
Cairo braced for 'victory march' to mark Mubarak's fall
Egyptian pro-democracy leaders have been urging followers to celebrate one week since Hosni Mubarak's fall with a giant march through the capital, Cairo. Organisers predicted a million people would turn out for a demonstration to "protect the revolution and its demands", as a Twitter message put it. Supporters of the former president also plan a counter-march.
Correspondents say life is still not back to normal as the interim military government tries to exercise power. Mr Mubarak resigned last Friday after 30 years in power, bowing to pressure from pro-democracy demonstrators who occupied Cairo's central Tahrir Square for more than two weeks. Since then, he has been staying with his family in the Red Sea resort of Sharm el-Sheikh.