From the Elder of Ziyon: "What could go wrong?" KGS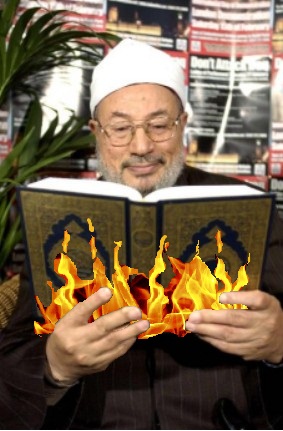 Terrorist supporter Qaradawi to address Tahrir Square
From OnIslam (verified by Al Arabiya in Arabic):
As thousands of Egyptians are preparing to celebrate their successful revolution against long-standing president Hosni Mubarak on Friday, February 18, prominent Muslim scholar Yusuf Al-Qaradawi will deliver the sermon of the weekly prayers from Tahrir Square in Cairo.

Qaradawi, the present of the International Union for Muslim Scholars (IUMS) will deliver the sermon at an invitation from a coalition representing the youth of the Egyptian revolution, OnIslam.net has learned.

The invitation was extended in gratitude to Qaradawi's role in mobilizing support for the Egyptian revolution.

Thousands of Egyptians are set to gather in Tahrir Square to celebrate their success in ousting Mubarak.



UPDATE: Barry Rubin sends the Tundra Tabloids the following:
Egypt Gets Its Khomeini: Qaradawi Returns in Triumph

[…] "Have no doubt. It is Qaradawi, not bin Ladin, who is the most dangerous revolutinary Islamist in the world and he is about to unleash the full force of his power and persuasion on Egypt.

Who are you going to bet on being more influential, a Google executive and an unorganized band of well-intentioned liberal Egyptians or the world champion radical Islamist cleric?"