Lefty Eco-jihadis threatened to behead a stolen statue of Ronald Mcdonald last week if their demands weren't met.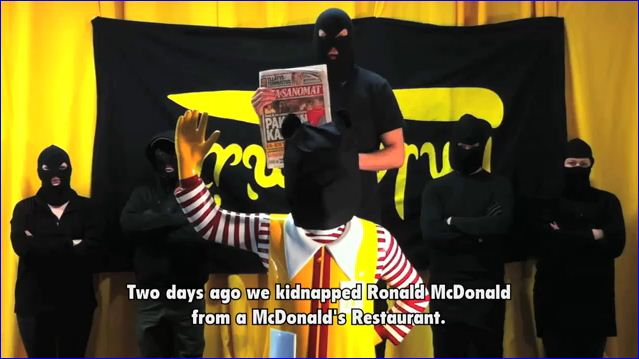 Not being the sharpest knives in the kitchen drawer, (they stole a Ronald statue for crying out loud, and threatened to behead it if their stupid demands for its safe return weren't met) it appears that they blew it big time, leaving behind something at the crime scene that led the police straight to them.  KGS
NOTE: It was a pretty sickening stunt, using the theme of jihadi beheadings to highlight their pathetic demands. Like the TT said, they're not the sharpest knives in the drawer.
H/T Kumitonttu
Ronald McDonald found – the thieves made a couple mistakes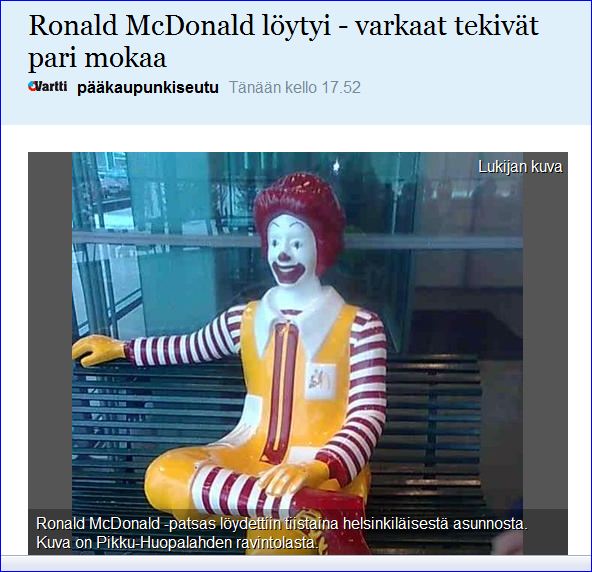 Omakaupunki: Police have found the statue of Ronald McDonald stolen from Ruoholahden's McDonald's last week on Monday. The Food Liberation Army announced that they were behind the theft.
According to chief investigator Jouni Niskanen, the police raided two apartments in Helsinki today. In addition to the statue, the police seized property in connection with more than just the statue in the searches
– The investigation is still in progress, I can not comment on the nature of the property in question. Seized assets are linked to the theft, however, Niskanen briefly commented.
– The statue was found at a second home unharmed and is now held by the police. We caught two 30 years old Helsinki residents,  on suspicion of the theft, Niskanen continues.
The apprehended men are penitent
Niskanen said that the detained men have not yet been interrogated, but they have tentatively been cooperative and contrite. In addition to their theft there are at least three other people suspected.
The perpetrators were according to the police had seen a lot of effort in planning of the theft, implementation, and publicizing it
– They did, however, make a few fairly rudimentary mistakes, with the result that the police got on their trail.