Henrik Raeder Clausen: "Ronald Reagan, the Rolls Royce of Presidents!"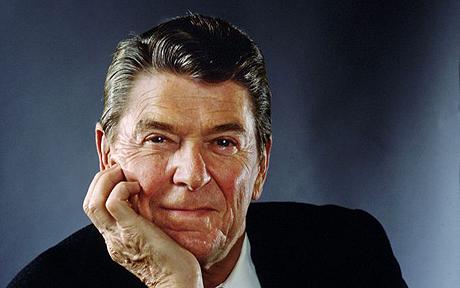 Whatever else history may say about me when I'm gone, I hope it will record that I appealed to your best hopes, not your worst fears; to your confidence rather than your doubts. My dream is that you will travel the road ahead with liberty's lamp guiding your steps and opportunity's arm steadying your way.
A troubled and afflicted mankind looks to us, pleading for us to keep our rendezvous with destiny; that we will uphold the principles of self-reliance, self-discipline, morality, and, above all, responsible liberty for every individual that we will become that shining city on a hill.
Freedom is never more than one generation away from extinction. We didn't pass it on to our children in the bloodstream. It must be fought for, protected, and handed on for them to do the same, or one day we will spend our sunset years telling our children and our children's children what it was once like in the United States where men were free.
Back in 1927, an American socialist, Norman Thomas, six times candidate for President on the Socialist Party ticket, said that the American people would never vote for socialism but he said under the name of liberalism the American people would adopt every fragment of the socialist program.
But at the moment I'd like to talk about another way because this threat is with us and at the moment is more imminent. One of the traditional methods of imposing statism or socialism on a people has been by way of medicine. It's very easy to disguise a medical program as a humanitarian project. . . . Now, the American people, if you put it to them about socialized medicine and gave them a chance to choose, would unhesitatingly vote against it. We have an example of this. Under the Truman administration it was proposed that we have a compulsory health insurance program for all people in the United States, and, of course, the American people unhesitatingly rejected this.
Welfare's purpose should be to eliminate, as far as possible, the need for its own existence.
One legislator accused me of having a nineteenth-century attitude on law and order. That is a totally false charge. I have an eighteenth-century attitude. That is when the Founding Fathers made it clear that the safety of law-abiding citizens should be one of the government's primary concerns.
Fascism was really the basis for the New Deal. It was Mussolini's success in Italy, with his government-directed economy, that led the early New Dealers to say "But Mussolini keeps the trains running on time."
I'm convinced that today the majority of Americans want what those first Americans wanted: A better life for themselves and their children; a minimum of government authority. Very simply, they want to be left alone in peace and safety to take care of the family by earning an honest dollar and putting away some savings. This may not sound too exciting, but there is something magnificent about it. On the farm, on the street corner, in the factory and in the kitchen, millions of us ask nothing more, but certainly nothing less than to live our own lives according to our values — at peace with ourselves, our neighbors and the world.
They tell us we must learn to live with less, and teach our children that their lives will be less full and prosperous than ours have been; that the America of the coming years will be a place where — because of our past excesses — it will be impossible to dream and make those dreams come true. I don't believe that. And, I don't believe you do either. That is why I am seeking the presidency. I cannot and will not stand by and see this great country destroy itself.
In this present crisis, government is not the solution to our problem; government is the problem. From time to time we've been tempted to believe that society has become too complex to be managed by self-rule, that government by an elite group is superior to government for, by, and of the people. Well, if no one among us is capable of governing himself, then who among us has the capacity to govern someone else? All of us together, in and out of government, must bear the burden.
I have only one thing to say to the tax increasers: Go ahead, make my day.
I have never given a litmus test to anyone that I have appointed to the bench…. I feel very strongly about those social issues, but I also place my confidence in the fact that the one thing that I do seek are judges that will interpret the law and not write the law. We've had too many examples in recent years of courts and judges legislating. They're not interpreting what the law says and whether someone has violated it or not. In too many instances, they have been actually legislating by legal decree what they think the law should be, and that I don't go for. And I think that the two men that we're just talking about here, Rehnquist and Scalia, are interpreters of the Constitution and the law.
General Secretary Gorbachev, if you seek peace, if you seek prosperity for the Soviet Union and Eastern Europe, if you seek liberalization: Come here to this gate! Mr. Gorbachev, open this gate! Mr. Gorbachev, tear down this wall!
Americans "[…]Are not going to tolerate intimidation, terror and outright acts of war against this nation and its people. And we are especially not going to tolerate these attacks from outlaw states run by the strangest collection of misfits, Looney Tunes and squalid criminals since the advent of the Third Reich […] There can be no place on earth where it is safe for these monsters to rest,or train or practice their cruel and deadly. We must act together – or unilateraly, if necessary – to ensue that these terrorists have no sanctuary, anywhere."
In closing, let me thank you, the American people, for giving me the great honor of allowing me to serve as your president. When the Lord calls me home, whenever that day may be, I will leave with the greatest love for this country of ours and eternal optimism for its future. I now begin the journey that will lead me into the sunset of my life. I know that for America there will always be a bright dawn ahead. Thank you, my friends. May God always bless you.