YES, IT IS DEAD
This is pathetic. Britain's Labour Party is all in a tizzy over Cameron's 'Johnny come lately' remarks about multiculturalism being a failed experiment, then Tory, Baroness Warsi,, defends her colleague as she insists that "extremism and Islam are not the same thing." Of course she can never hope to convincingly prove that statement, which only serves to further obfuscate the issues. Islam is the problem, not any one "interpretation of it. Full stop. KGS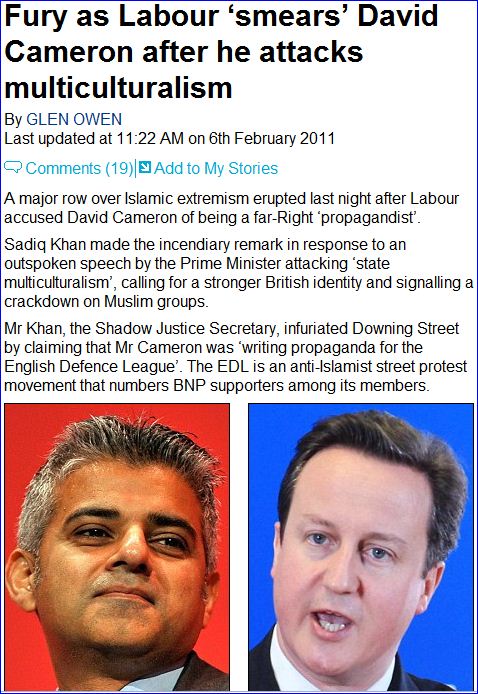 Labour MPs then weighed in by accusing Mr Cameron of inflammatory timing for making his speech on the day when the EDL was marching in Luton.
But Tory Chairman Baroness Warsi described Mr Khan's remarks as an attempt to 'smear' the Prime Minister as a Right-wing extremist.
'This is outrageous and irresponsible,' she said.
'David Cameron has made it clear he wants to unite Britain around our common values, and he has done so in measured language.
'It is right that we make it clear: extremism and Islam are not the same thing. Mr Khan ran Ed Miliband's leadership campaign. He must apologise and Mr Miliband needs to disown his colleague's baseless accusation.'
A spokesman for Mr Khan responded: 'The Conservatives are trying to create an artificial row with Sadiq because they realise they have been embarrassed by the timing of Mr Cameron's speech.
'On the day that the EDL marched through Luton and made British Muslims fear to step outside their own homes, it was highly unwise for Mr Cameron to make his speech.'
H/T: Scottish Infidel