The demonstrators are not pleased. That said, the Tundra Tabloids has to reinforce the point that this is not a true democratic movement, if it were, the Copts wouldn't be scared to death as they are right now of the fundamuslims and a regime ran by them. KGS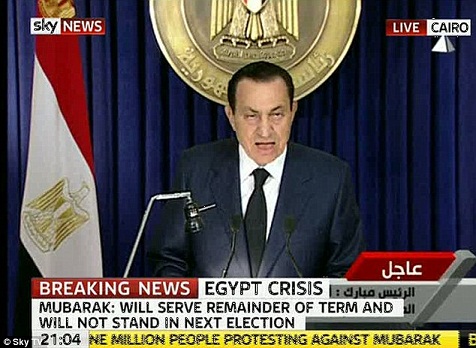 I quit, says Mubarak: Egyptian leader pledges to stand down at next election… but will that satisfy the protestors
By DAILY MAIL REPORTER
Last updated at 6:52 AM on 2nd February 2011
President Mubarak confirms he is to stand down at election
Military holding good to pledge not to fire on peaceful protesters
King Abdullah of Jordan sacks prime ministers after protests
18,000 passengers stranded at Cairo Airport in dash to escape
Foreign Office to send charter planes tomorrow to pick up British tourists
Google provides a Twitter lifeline after last internet provider shuts down
Egypt's detested leader Hosni Mubarak last night agreed to relinquish his grip on power..
After a momentous day of mass protests, which saw up to a million people pour out onto the streets of Egypt's main cities, the ageing leader went on television to say he would not stand again for election. Following meetings with advisers and top military brass, Mr Mubarak announced his decision in a ten-minute televised speech to the nation last night.
Vowing he would step aside in September at the next presidential election, the 82-year-old said: 'In all sincerity, regardless of the current circumstance, I never intended to be a candidate for another term.'

He said Egyptians now wanted to choose between 'chaos and confusion', adding that he would not flee and intended to die in Egypt.
'I have never wanted to be in power,' he said. 'I have never betrayed anyone and have never run from responsibility.
'Now my responsibility is stability in the country and to establish and fulfil the transition in the circumstances that would allow the Egyptian people peace and for them to choose whoever they want to chose in the next elections … Egypt will get out of this situation and it will be stronger than it was, more confident.'
He added he will work during 'the final months of my current term' to carry out the 'necessary steps for the peaceful transfer of power'.