No one is saying that Mubarak is a prime candidate for sainthood, but the fact is, his government kept a relative peace in the region during his entire reign. The certainty of that peace continuing in a post-Mubarak Egypt cannot be assured, by anyone, so why all the joy and hoopla over one dictatorship being taken over by (most likely) a less friendlier one? KGS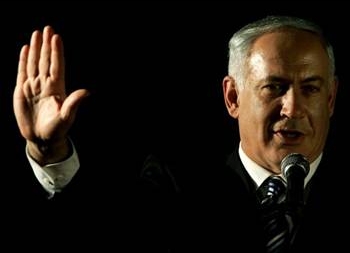 Netanyahu: US allies deserve better than that
Israel shocked by Obama's "betrayal" of Mubarak
JERUSALEM | Mon Jan 31, 2011 12:54pm EST
(Al-Reuters) – If Egypt's President Hosni Mubarak is toppled, Israel will lose one of its very few friends in a hostile neighborhood and President Barack Obama will bear a large share of the blame, Israeli pundits said on Monday.
Political commentators expressed shock at how the United States as well as its major European allies appeared to be ready to dump a staunch strategic ally of three decades, simply to conform to the current ideology of political correctness.
Prime Minister Benjamin Netanyahu has told ministers of the Jewish state to make no comment on the political cliffhanger in Cairo, to avoid inflaming an already explosive situation. But Israel's President Shimon Peres is not a minister.
"We always have had and still have great respect for President Mubarak," he said on Monday. He then switched to the past tense. "I don't say everything that he did was right, but he did one thing which all of us are thankful to him for: he kept the peace in the Middle East."
Newspaper columnists were far more blunt.
One comment by Aviad Pohoryles in the daily Maariv was entitled "A Bullet in the Back from Uncle Sam." It accused Obama and his Secretary of State Hillary Clinton of pursuing a naive, smug, and insular diplomacy heedless of the risks.
Who is advising them, he asked, "to fuel the mob raging in the streets of Egypt and to demand the head of the person who five minutes ago was the bold ally of the president … an almost lone voice of sanity in a Middle East?"
"The politically correct diplomacy of American presidents throughout the generations … is painfully naive."
Obama on Sunday called for an "orderly transition" to democracy in Egypt, stopping short of calling on Mubarak to step down, but signaling that his days may be numbered. [nN30161335]
"AMERICA HAS LOST IT"