Yeah, the 'chinless one' is preparing for a Syrian day of rage, he's lowering the price of bread and heating oil.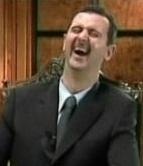 Assad Prepares for 'Day of Rage' in Syria
INN: Syrian President Bashar Assad has one eye on a potential revolution and another eye on remaining a dictator. He says he will push for reforms and will raise subsidies for heating oil, but his country is still restricting Facebook, the social network that is being used to stage an anti-Assad rally Saturday.
In a rare interview with The Wall Street Journal Tuesday, Assad observed that the movements for revolution in Tunisia, Yemen and Egypt signal a "new era" in the Middle East, and that Arab rulers, if they want to remaining power, must understand citizen's social and economic desires. Unlike Egypt, Syria is openly anti-American and is an ally of Hizbullah and Iran.
Assad's regime is considered one of the most ruthless, even for the Middle East. Poverty in the country is rising, but is still far less than in other Muslim nations, including Egypt. However, abuses of human rights and freedom of expression are frequently the target of criticism by human rights groups and the United States.
"People here are suffering much more than Egypt or Tunisia but you don't see it," a medical student told Al Jazeera. "They keep their mouths shut because they don't want to be locked up for 10 years."
Opponents to Assad are using Facebook to prepare for a mass rally Saturday, using proxy servers to get around government restrictions on Facebook. Users must register their names when using Internet cafés, and police have the authority to confiscate the lists.
More here.