Another fundamuslim Ikhwan-like nutjob ready to take his country into a whole new direction. Al-Qaida couldn't be happier. KGS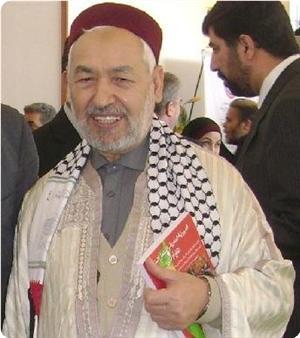 Tunisian Islamist leader returns home to cheering crowds
By ASSOCIATED PRESS
01/30/2011 17:34
TUNIS — The leader of a long-outlawed Tunisian Islamist party was welcomed at the airport by thousands of cheering supporters on Sunday as he returned to his homeland after more than two decades in exile.
Rachid Ghanouchi and about 70 other exiled members of Ennahdha, or Renaissance, flew home from Britain two weeks after autocratic former Tunisian President Zine El Abidine Ben Ali was forced from power by violent protests. Ghanouchi took up a megaphone to address the crowd outside the airport, but his voice was drowned out by shrill ululating cries and shouts of "God is great!"
During 23 years in power, Ben Ali cracked down on opponents, including proponents of political Islam, jailing them, and sending many into exile.