Now that's the way it's done. What West should be doing however is to actively pursue a search and destroy strategy. Any vessel coming into contact with should be evaluated as to whether it's a pirate vessel, commandeered and if resistance ensues, sink the ship and capture the crew . Perhaps reinstating the death penalty for piracy is in order as well. KGS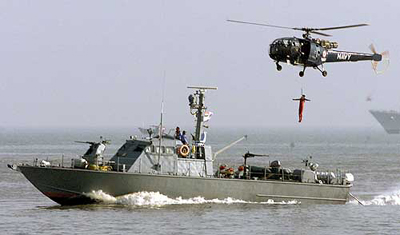 Indian Navy sinks pirates ship, 15 held
By Staff
Published Sunday, January 30, 2011
A pirate ship was intercepted near Lakshadweep, India, on Friday and 20 fishermen were rescued by the Navy and Coast Guard.
Fifteen Somalian pirates have been arrested, reported 'Hidustan Times'.
The pirates had been on the prowl in the eastern parts of Arabian Sea since last April after they hijacked a Thai vessel, Prantalay, and were using it as a mother vessel for carrying out a wave of attacks on merchant vessels.
INS Cankarso, a fast-attack craft, intercepted the mother ship 370 km off the Kochi coast, but the pirates opened fire. Prantalay burst into flames and sank after the Navy retaliated with "limited fire in self defence".
A Navy official said Cankarso fired a warning shot in keeping with internationally accepted norms after efforts to establish communication with Prantalay failed. But instead of stopping, the pirates began spraying bullets from their Kalashnikovs.
Fuel drums onboard Prantalay exploded when the navy struck back.
The chase lasted around seven hours. Within minutes of receiving a distress call from MV CMA CGM Verdi, a Bahama-flagged container ship, on Friday morning (10.30 am), a coast guard Dornier aircraft spotted two skiffs (speedboats) attempting a piracy attack. The skiffs aborted their mission and dashed towards the mother vessel sensing trouble from the skies.