The Tundra Tabloids reported a couple of weeks ago on the Finnish heavy metal gig called Crushing the Balls of Muhammad" that took place this Friday, and it seems that the event led to not only threats from 'offended' Muslims, but also the police were called in to investigate the claim that a Koran was desecrated on stage by one of the bands playing at the event.
The Tundra Tabloids came across the following series of comments by one of the organizers of the event, Jari-Petri Heino, who mentions the following in a post and in the comment thread, about what took place. KGS
Finland is a Muslim heaven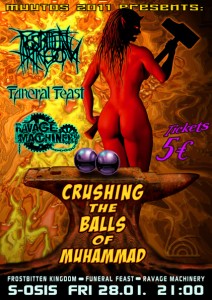 The heavy-metal event organized by Muutos2011rp created an emotional outburst by "the offended" even before the actual event began, and even fear of a possible future terrorist attack. The event itself got moving in large numbers by mainly young people interested in music, but, as it tends to be in Finnish contemporary society, offending Islam took on tragicomic features.
Already in advance the rental agencies for the gig were threatened that if the Islamic sacred values were violated, the place would have its electricity cut off.
Personally, I had to leave the place for technical reasons already by 23:00, but then apparently something began to happen. The police arrived and police-TV (reality program), because obviously the last band defiled the Koran in some way. Muslims were not spotted in the area.
Because I was no longer present, I don't exactly know. The Koran was desecrated in some way.
I myself am partly responsible for this horrible crime, because I saw in the band's changing room, a pile of paper from the Koran that had Arabic writing, that had already been desecrated on numerous occasions. It seems that I should have called the police to the site back then.  =)