The protestors are back again in the center of Cairo. While the Muslim Brotherhood did not ignite the protests, they are indeed maneuvering their people into steering the revolution and stand a good chance in running the whole show, especially if Mohamed Elbaradei gets to be the political voice of the movement in the streets.  KGS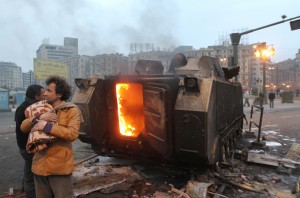 Crowds In Cairo Call For President To Quit
Saturday, 29th January 2011 06:00
Several hundred demonstrators have gathered in a central Cairo square to demand the resignation of Egyptian president Hosni Mubarak.
Crowds Gathering in Tahrir square shouted "Go away, go away," just hours after President Hosni Mubarak gave a speech where he fired his cabinet in an effort to quell the unrest.
In full view of the army which had been deployed in the city, those gathered shouted: "Peacful, peaceful".
The demonstration was the first clear indication that those involved in the street protests were not satisfied by the President's latest remarks.
The Egyptian leader fired his Cabinet just hours before in an attempt to thwart further civil unrest.
However, protesters have vowed to continue to promote unrest across the country.
In his nationally televised address at midnight, the 82-year-old president made vague promises of social reform but did not offer to step down himself.