What Do the Egyptian Crowds Want? Caliphate Dreams and Strict Sharia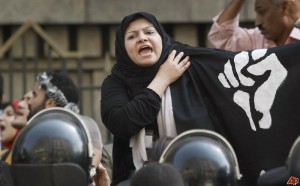 BIG PEACE: Posted by Andrew G. Bostom Jan 29th 2011 at 8:34 am in Islam, Islamic extremism, Middle East | Comments (10)
A sobering reminder—based upon hard data—from an essay of mine published in April, 2007:
In a rigorously conducted face-to-face University of Maryland/ WorldPublicOpinion.org interview survey of 1000 Egyptian Muslims conducted between December 9, 2006 and February 15, 2007, 67% of those interviewed-more than 2/3, hardly a "fringe minority"-desired this outcome (i.e., "To unify all Islamic countries into a single Islamic state or Caliphate"). The internal validity of these data about the present longing for a Caliphate is strongly suggested by a concordant result: 74% of this Muslim sample approved the proposition "To require a strict [emphasis added] application of Shari'a law in every Islamic country."
NOTE: The TT believes that to be the case. Liberty and freedom do not immediately come to mind in any of the spontaneous revolts happening in the ME. The fundamuslims are pouring into the country as we speak, and if the military caves to Elbaradei and like ilk…with mubarak gone…. a new age of regional war with Israel has arrived.